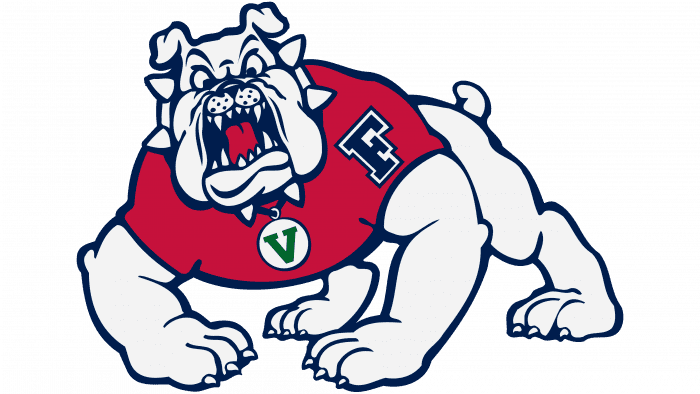 Fresno State Bulldogs Logo PNG
Aggressiveness and power, confidence in victory, and the desire to protect the team's interests to the last reflect the logo of the Fresno State Bulldogs, whose mascot supports these statements. Featuring the team colors, the Fresno State Bulldogs badge is a bright and eye-catching reflection of the fighting spirit.
Fresno State Bulldogs: Brand overview
| | |
| --- | --- |
| Founded: | 1992 |
| Headquarters: | Fresno, California, U.S. |
| Website: | gobulldogs.com |
California State University, Fresno own twenty-two Fresno State Bulldogs teams. Most sports are represented at the Mountain West Conference. The exceptions are wrestling and horseback riding (they are listed in the Big 12 Conference), water polo (Golden Coast Conference), and lacrosse (Mountain Pacific Sports Federation). At the same time, all teams of the educational institution take part in the NCAA Division I, have a red-blue color palette and a mascot nicknamed Time Out.
Meaning and History

The Fresno State Bulldogs logo traditionally depicts a bulldog. He confidently stands on four legs and barks, showing sharp teeth. A collar with massive spikes is worn around the dog's neck. On the torso – a red T-shirt with a blue letter "F" on the sleeve. In the previous version (1992-2005), "F" was slightly larger. Now it takes up less space, and the bulldog as a whole has become more compact.
A round white pendant with a green "V" is attached to the collar. It was not there before. Also, the designers changed the color scheme, as a result of which the scarlet became red-pink, and the blue became dark blue.
What is Fresno State Bulldogs?

Fresno State Bulldogs is an athletic department comprising 22 teams from California State University, Fresno. It is affiliated with the Mountain West Conference, which it represents in intercollegiate competitions in NCAA Division I. The department has two National Collegiate Athletic Association championships: baseball (in 2008) and softball (in 1998). Its members also participate in the Big 12 Conference (equestrian) and the Golden Coast Conference (water polo).
1992 – 2005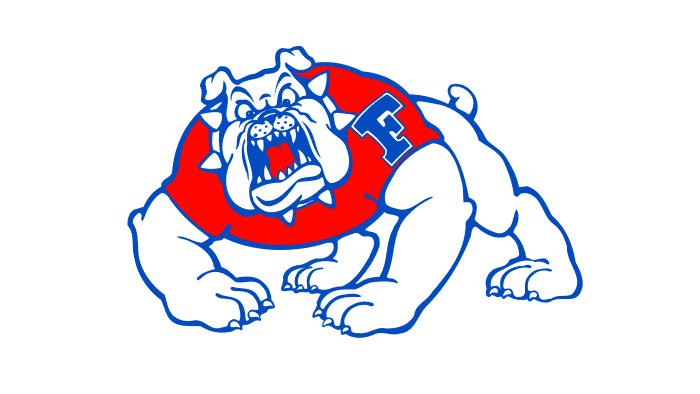 2006 – today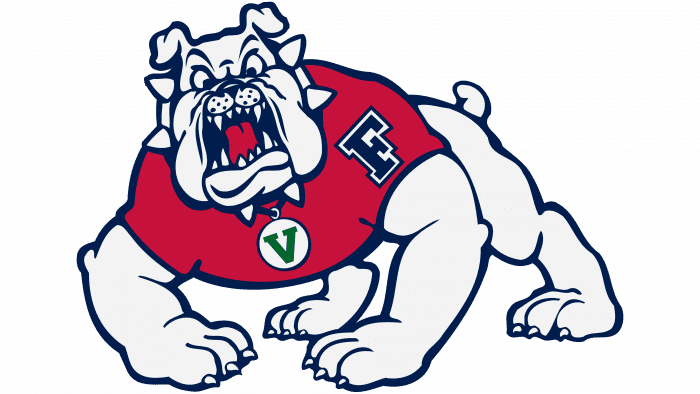 Fresno State Bulldogs Football Logo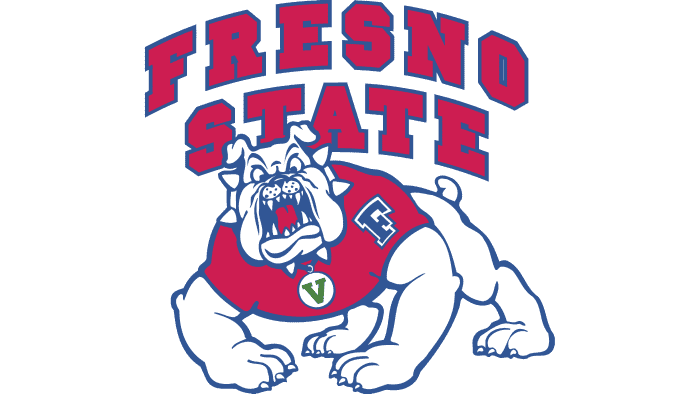 The list of achievements of the football team is a victory in twenty-seven conference championships. During games, she uses an additional emblem in the form of a green letter "V." This badge adorns uniforms, helmets, and the Bulldog Stadium. It symbolizes California Central Valley.
Fresno State Bulldogs Basketball Logo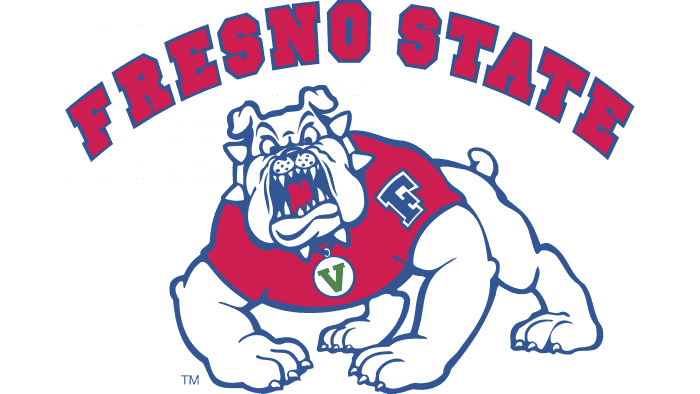 The biggest achievement of the men's baseball team is the victory in the National Invitational Tournament Championship held in 1983. The women's team is famous for winning four WAC titles and participating in the NCAA Tournament seven times.
Font and Colors
Fresno State Bulldogs color codes
Crimson

Hex color:
#db0032
RGB:
219 0 50
CMYK:
0 100 77 14
Pantone:
PMS 185 C
Dark Midnight Blue

Hex color:
#002e6d
RGB:
0 46 109
CMYK:
100 58 0 57
Pantone:
PMS 288 C
La Salle Green

Hex color:
#007934
RGB:
0 121 52
CMYK:
100 0 57 53
Pantone:
PMS 355 C