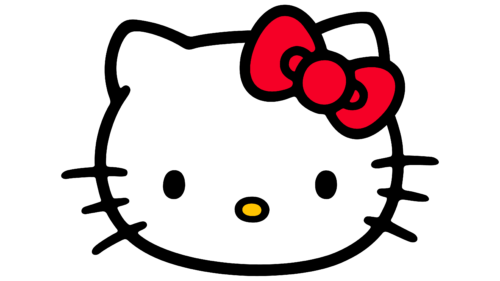 Hello Kitty Logo PNG
Although the Hello Kitty logo has a simple and inconspicuous design, its success is associated with the uniqueness of the character, which evokes positive emotions in people of all ages. It has become not just an identification sign of the brand but a symbol of playfulness, kindness, and femininity that has won the hearts of millions of fans worldwide.
Hello Kitty: Brand overview
| | |
| --- | --- |
| Founded: | 1974 |
| Founder: | Yuko Shimizu |
| Headquarters: | Tokyo, Japan |
| Website: | sanrio.co.jp |
Hello Kitty turns 50 in 2024 and looks just as delightful as she did in her debut year. Her story is a long journey from being a cute character to a profitable media franchise, raking in billions of dollars. Behind the brand is the Japanese company Sanrio, headed by Shintaro Tsuji, which creates products in the kawaii style, i.e., cute and touching. In 1974, it hired cartoonist Yuko Shimizu to adorn a purse with a new drawing. The resulting print was incredibly popular: the charming cat with a red bow won the hearts of children and adults. Over time, she became the main face of an entire line of products, began appearing in various TV shows, and even took up the position of UNICEF ambassador.
Meaning and History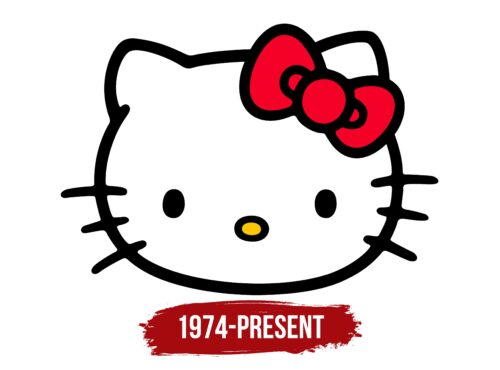 Hello Kitty appeared in the Sanrio character lineup in 1974. At that time, she had no logo or name; it was just an anthropomorphic bobtail with a red bow on her ear. In 1975, a print with a kawaii cat sitting between an aquarium and a milk bottle debuted on a vinyl wallet. The image already had a name: Shintaro Tsuji decided to call it Kitty, inspired by a scene from Alice Through the Looking-Glass novel.
The character became incredibly popular, and Sanrio began to develop it. Images of Hello Kitty in new poses were created, and she received a fictional backstory: date of birth, parents, sister, pet, and boyfriend. Given that the brand was growing rapidly, it needed its logo. It contains the so-called "passport snapshot," where the head is positioned full-face. It is well noticeable that the anthropomorphic bobtail has no mouth.
According to Sanrio representatives, this was done intentionally so that the image did not express any emotions and was perceived differently by everyone, depending on the mood. According to another version, the absence of a mouth indicates that Hello Kitty does not speak a specific language, meaning anyone can understand her. Yuko Shimizu (the character's creator) claimed that the mouth exists but is not visible behind the white fur.
What is Hello Kitty?

Hello Kitty is a fictional character who looks like a cat but is not one. This is a girl in the image of an anthropomorphic bobtail whose head is adorned with a cute red bow. She comes from Japan's kawaii culture and has been around since 1974. The artist Yuko Shimizu created her for Sanrio. Initially, the image of Hello Kitty was only found on wallets and then appeared on other products – from toys and clothing to toasters and coffee makers.
1974 – today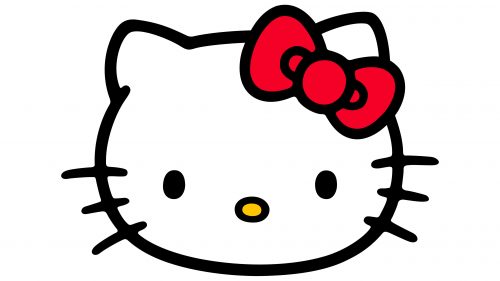 Hello Kitty, having become a marketing phenomenon, was conceived as a bobtail, hence her large head and wide-open eyes. The emblem features her face (exactly the face, as it's a girl in the image of an anthropomorphic cat), small ears, and a lush red bow, which makes the character easily recognizable. The nose looks like an oval yellow button. Next to it are two more ovals – black eyes. They are drawn lower than they should be from an anatomical point of view, giving the image a cute look. Cat whiskers grow on the cheeks – three hairs on each side.
This emblem has become a key element of the brand's identity and is popular in many countries. It can be seen in various products: footwear, clothing, accessories, toys, and other goods, which bring the character's owners a huge profit.
Font and Colors
If the Hello Kitty logo is supplemented with some inscriptions, they must be just as cute. However, the official version contains only the "portrait" of the bobtail girl – a famous symbol of Japanese pop culture. The artist Yuko Shimizu made white the dominant color associated with purity and innocence. The contours are highlighted in black to make the drawing more visible. And the yellow nose and red bow underscore the childlike spontaneity and charm of the cat.
Hello Kitty color codes
Pigment Red

Hex color:
#f50026
RGB:
245 0 38
CMYK:
0 100 84 4
Pantone:
PMS Bright Red C
Golden Poppy

Hex color:
#ffc401
RGB:
255 196 1
CMYK:
0 23 100 0
Pantone:
PMS 7549 C
Black

Hex color:
#000000
RGB:
0 0 0
CMYK:
0 0 0 100
Pantone:
PMS Process Black C