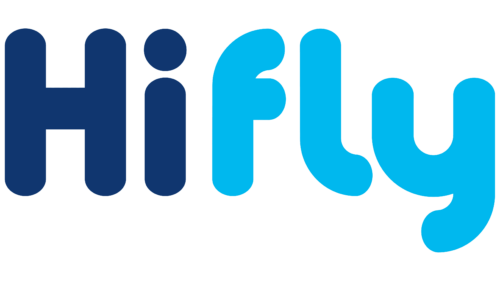 Hi Fly Logo PNG
Hi Fly logo is reminiscent of the salty ocean air you feel when stepping off an airplane in Portugal, where the company was born. Once you see it, you will feel that you are in for a unique journey through the sky, perhaps even to places you have only seen in pictures. The company's mission is to get you from point A to point B and make this journey a story you would tell your friends about. It's a young company, but it's like the new kid in school who has already fit in and is making things interesting.
Since its founding in October 2005, Hi Fly has captivated passengers with its unusual travel experiences and quickly gained recognition. In April 2006, the Portuguese Civil Aviation Authority granted Hi Fly an Operator's Certificate, signifying the successful completion of the initial certification process.
In 2008 and 2009, Hi Fly made the fateful decision to purchase new aircraft directly from Airbus. This strategic move allowed Hi Fly to expand its fleet and take its service to a new level.
The recent acquisition of an A330-200 and two A340-500 aircraft from Airbus was a major milestone in Hi Fly's development path.
Hi Fly's impressive partnership with Nigeria's leading airline, Arik Air, has enabled the launch of flights on the Lagos-New York-John F. Kennedy route. "Hi Fly has allocated one of its A340-500 aircraft, emblazoned with the iconic Arik Air logo, to serve this route for five years.
In 2015, Hi Fly took the bold step of reclaiming the aircraft previously operated in conjunction with Arik Air. This strategic decision opened new doors for Hi Fly, allowing the company to continue its pursuit of excellence and innovation.
From its humble beginnings as a charter airline to its current position as a respected player in the aviation industry, Hi Fly has consistently provided extraordinary travel experiences for passengers around the world.
Meaning and History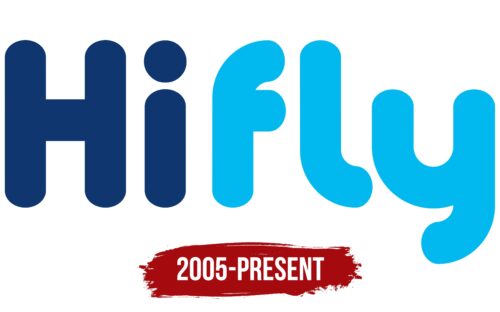 What is Hi Fly?

Hi Fly, a Portuguese charter airline headquartered in Lisbon, began operations in October 2005. After incorporation, the company quickly underwent a certification process and received its Operator's Certificate in April 2006. In 2008 and 2009, the airline received new Airbus aircraft, including an A330-200 and two A340-500s, as part of its fleet expansion. The fleet additions confirm the company's commitment to provide charter services at the highest level.
2005 – today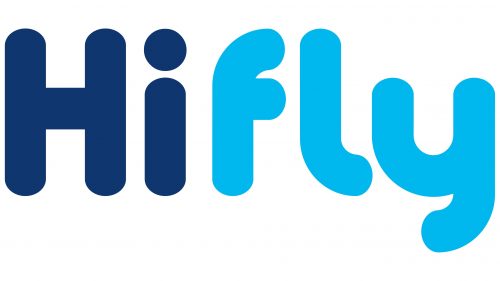 The creators of the Hi Fly logo sought to create a sense of lightness and airiness, so they used a "bubble" font devoid of corners. In addition, the inscription is colored blue, which is associated with the sky, so the glyphs resemble small clouds. The name of the airline is written in one word, with the letter "f" lowercase and the only capitalized letter being "H." To make the two words stand out, the designers colored the first word in a darker shade and the second in a lighter shade.
The choice of rounded font and sky blue color is intended to evoke a sense of freedom and lightness, which is often necessary when traveling by air. The contrast of hues between the words "Hi" and "Fly" adds visual interest and makes the name more readable without adding spaces or punctuation, keeping the minimalist approach to the logo.