Icelandair Logo PNG
Icelandair's logo is like the northern lights in the Icelandic sky – mysterious but welcoming. It doesn't scream adventure but simply promises it, suggesting that you take a warm coat and look up at the sky more often. Imagine that it is a guidebook to fjords, glaciers, and cozy towns where everyone knows your name but can't pronounce it. This logo brings to mind a journey where you can learn to say "hello" in Icelandic and "goodbye" with a sense of longing for the land of fire and ice. This logo is a gateway to a country where volcanoes meet snow and long nights mean bright skies. It's your ticket to a country as strange as it is beautiful, full of contrasts that somehow fit together.
Icelandair: Brand overview
Originating in 1937 as Flugfélag Akureyrar, Icelandair has undergone a journey of transformation. In 1940, the airline rebranded to Flugfélag Íslands and expanded its operations to include international flights to neighboring countries.
With the advent of long-haul aircraft, the airline made history in 1945 with the first transatlantic flight to the United States.
By the mid-1950s, Icelandair had firmly established itself as the foremost transatlantic carrier, offering passengers a convenient one-stop route between Europe and North America. The advent of jet aircraft in the 1960s further fueled the company's growth, providing faster and more efficient long-haul service and capitalizing on Iceland's strategic position.
In 1979, when the Icelandic aviation industry was deregulated, the airline adapted to the new environment and continued to work hard to provide exceptional customer service.
In the 1990s, Icelandair embarked on an ambitious journey of modernization and innovation. The airline invested in a new fleet of aircraft introduced exciting new routes, and used the latest technology to offer customers an unrivaled travel experience.
In 2002, Icelandair took a significant leap forward by becoming part of the Icelandair Group, a holding company combining the aviation and travel businesses.
Meaning and History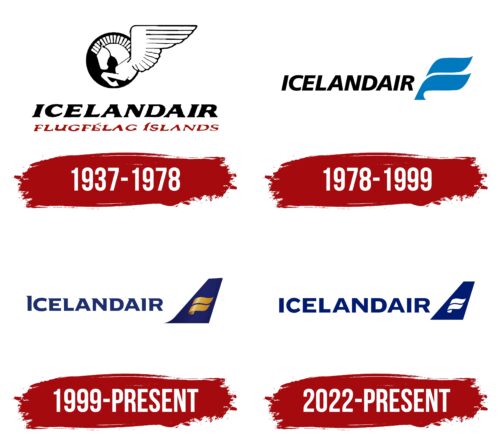 What is Icelandair?

Icelandair, Iceland's flagship airline, is headquartered at Reykjavik Airport, the country's capital. Part of the Icelandair Group, the airline expands its services on both sides of the Atlantic with flights from its main hub at Keflavik Airport. Iceland's strategic geographical location provides a convenient waypoint for one-stop transatlantic flights. The airline focuses on domestic, international, and domestic transportation, providing an important link between North America and Europe and serving the local Icelandic population.
1937 – 1978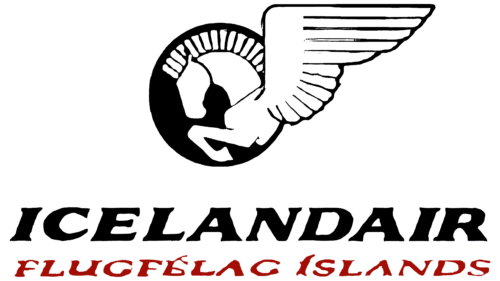 1978 – 1999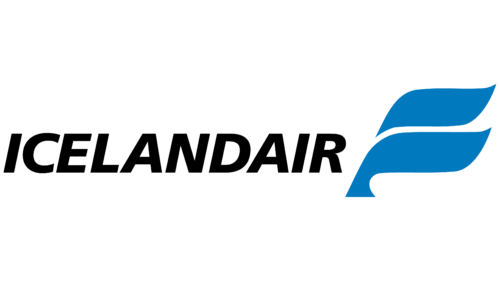 1999 – today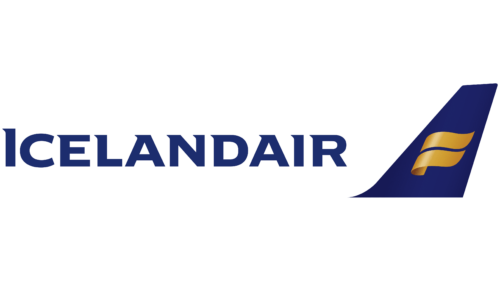 2022 – today
Icelandair's logo once featured a Pegasus, but now all that is left of it is a stylized wing. The wing looks like two wide, wavy stripes with a small half-oval at the bottom. Abstract geometric elements are painted in white and are located inside a dark blue trapezoid, which, in this case, represents the upper part of the tail of the airplane. For the company name, the designers chose a strict and balanced sans-serif font. This variant of the emblem has been in use since 2022.
The simplified modern design reflects the transition from mythical elements to a more streamlined and modern look. The choice of a dark blue trapezoid is probably intended to evoke thoughts of the sky or ocean often associated with Iceland. The white geometric elements of the wings give a minimalist yet dynamic feel, symbolizing movement and flight. The sans-serif font contributes to modernity, conveying professionalism and reliability.