Idaho Vandals Logo PNG
Idaho Vandals: Brand overview
| | |
| --- | --- |
| Founded: | 1966 |
| Headquarters: | Moscow, Idaho, U.S. |
| Website: | govandals.com |
| Logo downloads: | |
Idaho Vandals defend the University of Idaho's Division I honor in the NCAA and compete in the Big Sky Conference. The university's official colors are gold and silver because the state is famous for its mining operations. But in the current sports logo, they are not reflected, and in the old versions, a combination of black and yellow-gold was used.
Meaning and History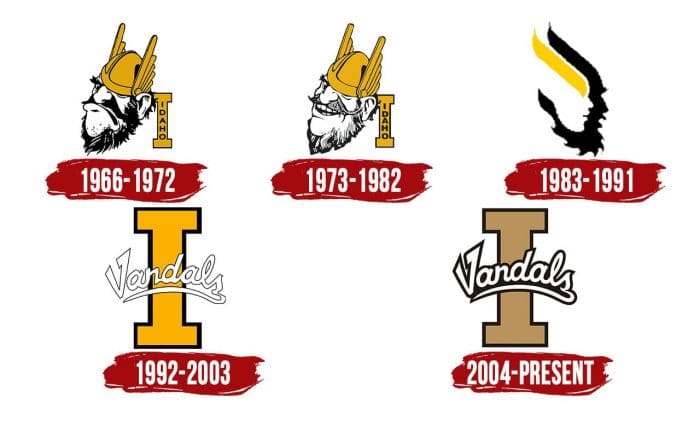 Almost all Idaho Vandals emblems, except for the 1983-1991 version, have some form of a large yellow letter "I" made up of three rectangles. This element is taken from the official symbol of the University of Idaho, central to the word trademark.
1966 – 1972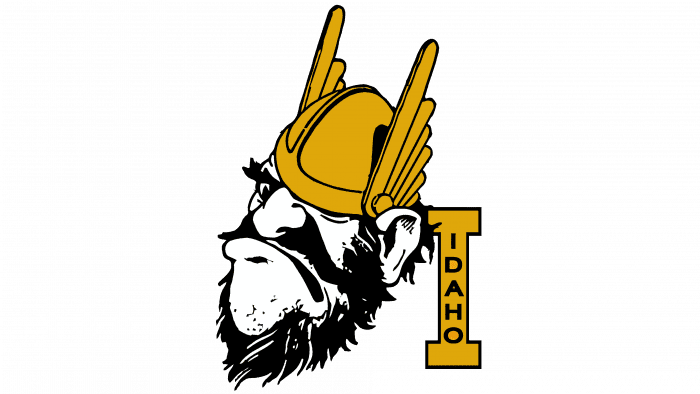 The first logo depicts the head of a scowling bearded man wearing a golden helmet with "wings" on the sides. This is the same vandal mentioned in the name of sports teams and recognized as their mascot. In the lower right corner is the letter "I." Inside it, the word "IDAHO" is written from top to bottom.
1973 – 1982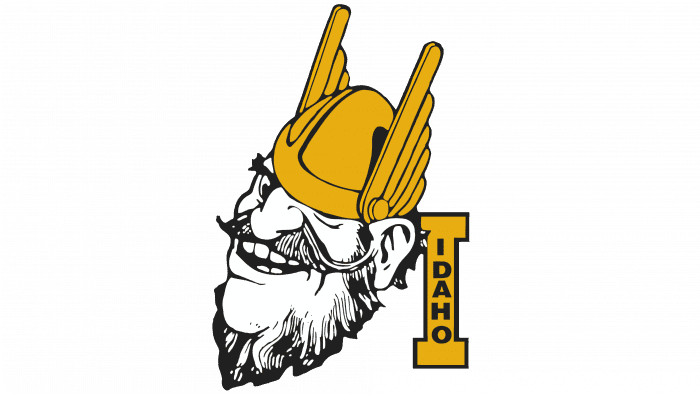 The new emblem is not very different from the previous one. The designers only changed the mood of the character, making him a smiling, kind-hearted man. The eyes, as before, are closed by the helmet shifted to the forehead.
1983 – 1991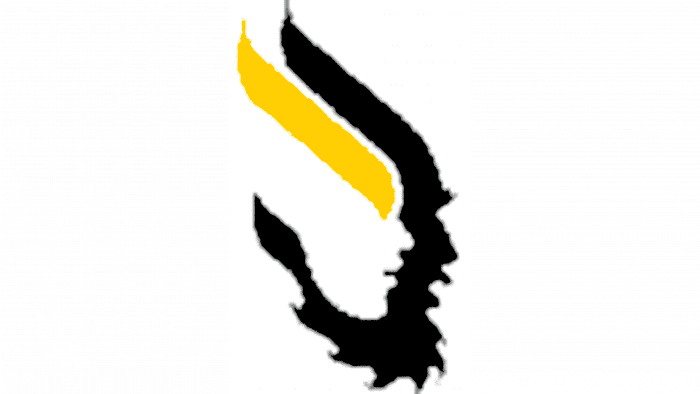 In 1983, a global redesign took place. There is no golden letter "I" left on the logo, and two abstract silhouettes replaced the vandal. The background is the profile of a face with a large beard, made in black. Above it is a white head (obviously female) with a golden stripe that begins where the forehead should be and ends at the back of the head.
1992 – 2003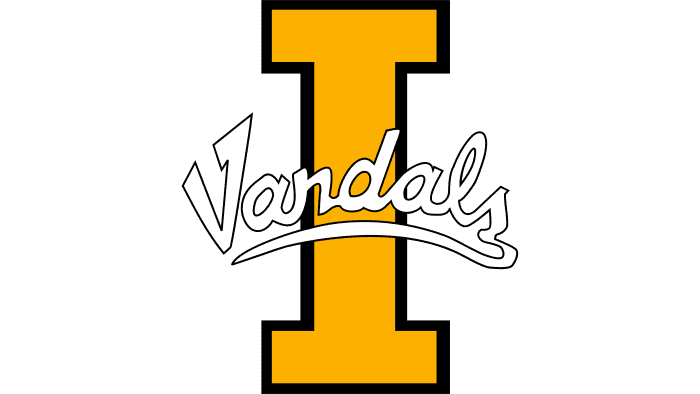 In the early 1990s, the sports teams' logo became similar to the symbol of the university: the designers removed both faces and returned the letter "I." Tellingly, they left it golden, but outlined in black and divided into two parts with the white inscription "VANDALS." The font of the word imitates handwriting.
2004 – today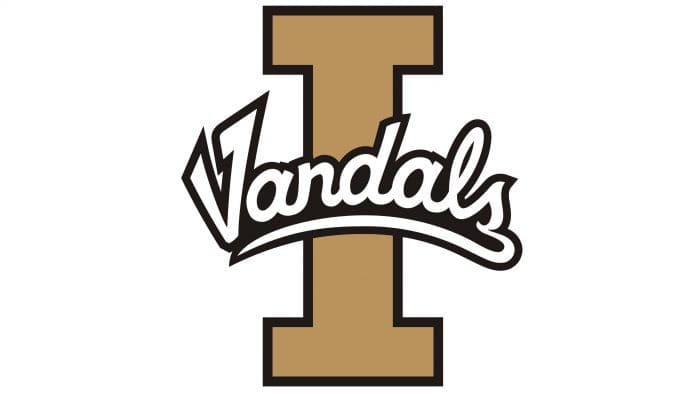 Having crossed the threshold of the new millennium, the teams from the University of Idaho have redesigned the logo again. The changes affected the palette: Metallic Gold replaced the yellow-gold.
Idaho Vandals Basketball Logo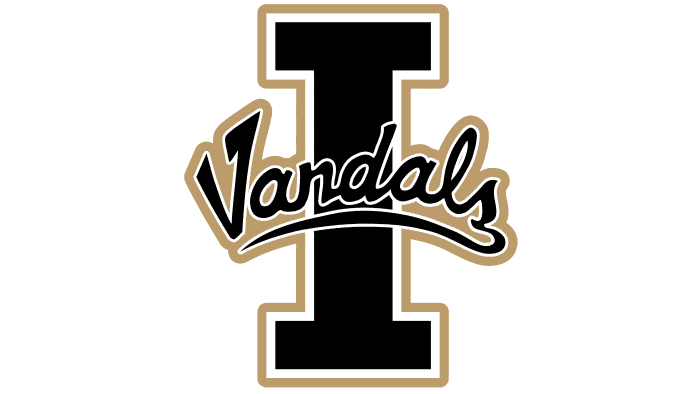 The University of Idaho's basketball teams are quite successful – both men, coached by Zac Claus, and women, under the direction of Jon Newlee. They compete in the Big Sky Conference and host home games at a stadium on one of the campuses, at the Kibbie Dome sports complex. It is planned that the basketball players will soon move to a new building and will be able to play at the Irenaho Central Credit Union Arena.
Idaho Vandals Football Logo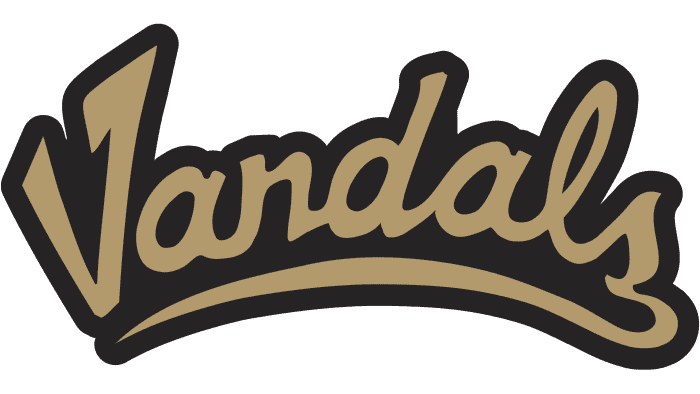 The football team spent its first season in 1893; therefore, it is one of the oldest in the university's sports program. Now she is breaking records, winning victories and constantly changing conferences: at least six of them, not counting the NCAA Football Bowl Subdivision independent schools.
Font and Color of the Emblem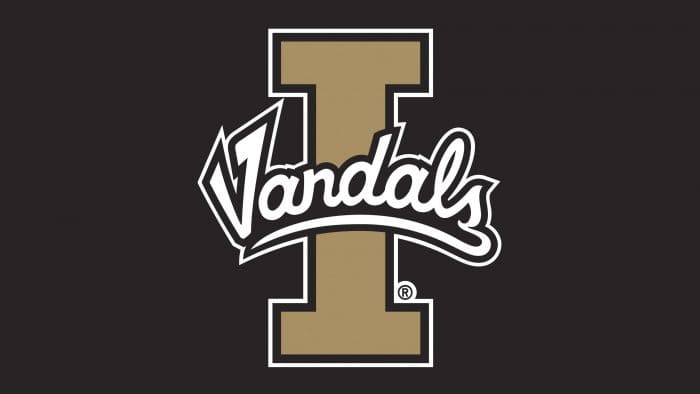 The distinctive mark of the Idaho Vandals teams is the yellow letter "I," reflecting the name of the state. It is also present on the university's logo, which makes it a universal symbol of all students. Only in the sport version, there is the "Vandals" lettering located across the "I."
Idaho Vandals color codes
Sand

Hex color:
#b3a369
RGB:
179 163 105
CMYK:
0 9 41 30
Pantone:
PMS 4515 C
Black

Hex color:
#000000
RGB:
0 0 0
CMYK:
0 0 0 100
Pantone:
PMS Process Black C