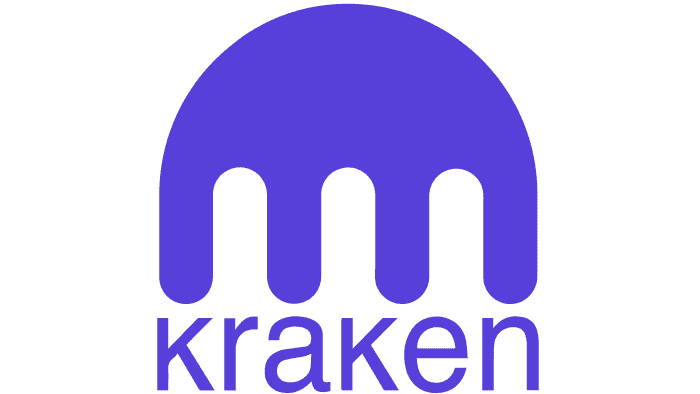 Kraken Logo PNG
The Kraken logo takes the user back to ancient times when amazing monsters were more powerful than humans. The emblem is a symbol of the venerable age, the provision of huge opportunities by the exchange, and the reliable protection of customers.
| | |
| --- | --- |
| Founded: | July 28, 2011 |
| Founder: | Payward, Inc. |
| Headquarters: | San Francisco, California, United States |
| Website: | kraken.com |
Kraken is one of the oldest cryptocurrency exchanges and the largest BTC / EUR exchange. This platform allows you to trade fiat and digital money, including leveraged funds. According to independent company Group-IB, the executives took good care of the cybersecurity of their project. In this, it is ahead of the vulnerable online-service Mt.Gox, which indirectly influenced its creation.
The American Jesse Powell founded the company in 2011. This happened against the Mt.Gox hack background because Kraken was supposed to be a safe alternative to the troubled Japanese cryptocurrency exchange. In the end, it happened: after the bankruptcy of Mt.Gox, he began to investigate the leak of BTC and undertook to return the lost funds to all affected owners of virtual money.
Although Kraken bills itself as a bitcoin exchange, it supports many other cryptocurrencies, including Zcash, Monero, Litecoin, Ripple, Ethereum, and other popular assets. That is why, and because of its high reliability, more than 4 million traders from different countries trust him.
Meaning and History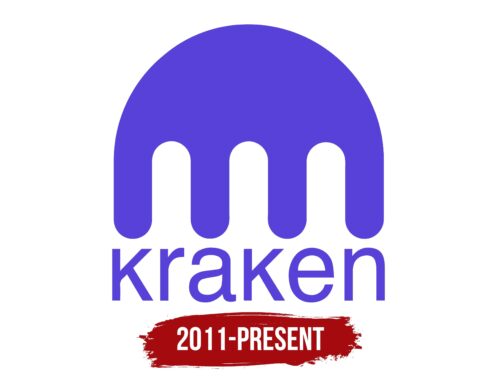 Users know Kraken as a global exchange with many tools for professionals and beginners and as a concept project with an unusual logo. Its main graphic symbol illustrates the name, which was taken from Icelandic myths. As you know, the Kraken is a fictional creature, a sea monster that destroys ships in the open ocean. The designers depicted it as an abstract silhouette and added a wordmark.
It is not clear why the virtual money exchange service chose this name for itself. Perhaps he wanted to finally "sink" Mt.Gox to take its place in the cryptocurrency market. Or maybe it was an attempt to show its unsinkability because a mythical monster could drag even the largest ship with an experienced crew behind it.
What is Kraken?

It is an influential crypto exchange that was created in 2011 and launched in 2013. It replaced Mt. Gox and helped traders get their money back after that bitcoin exchanger went bankrupt. Its head office is located in San Francisco, California. Its main purpose is trading between fiat and cryptocurrencies.
Despite the intimidating meaning of the word "Kraken," the artists did not render the company's name in horror style. They used abstract geometric shapes, and what they ended up with bears little resemblance to the legendary monster. If not for the signature below, no one would have even guessed that this is a Kraken. A semicircle with projections is more like a hair comb, which for some reason does not have serrations or the tip of a child's fork with four round teeth.
In any case, there are no associations with a real Kraken because the designers did not have a goal to scare someone. The lack of corners suggests that the exchange wanted to inspire confidence in traders. This psychological technique works on a subconscious level.
Font and Colors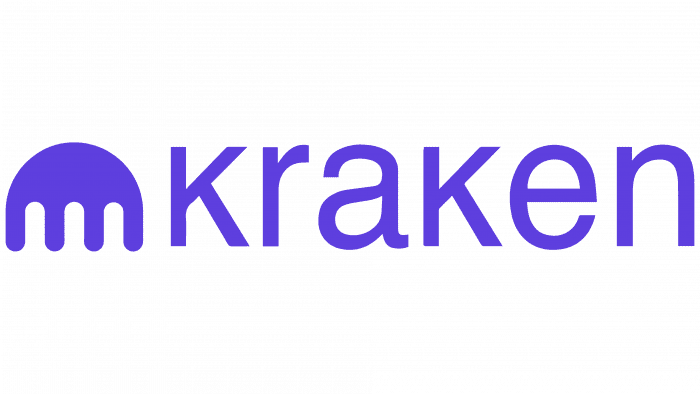 Below the graphic is the name of the cryptocurrency exchange. The letterforms are reminiscent of a range of free and paid fonts, including Protestant DGL Regular by Digital Graphic Labs and Yoxall Regular by Roger White. Other similar typefaces are Foundation Sans Roman from FontSite Inc. and FreeSans Medium from the GNU FreeFont Project developers. They share similar glyphs, although there are slight differences. It is noteworthy that both "K" is uppercase on the Kraken logo, and all other characters are lowercase, although they have the same size.
The abstract drawing and lettering are combined in color. The designers made them purple with # 5841D8. It is dark enough to stand out clearly against a white background.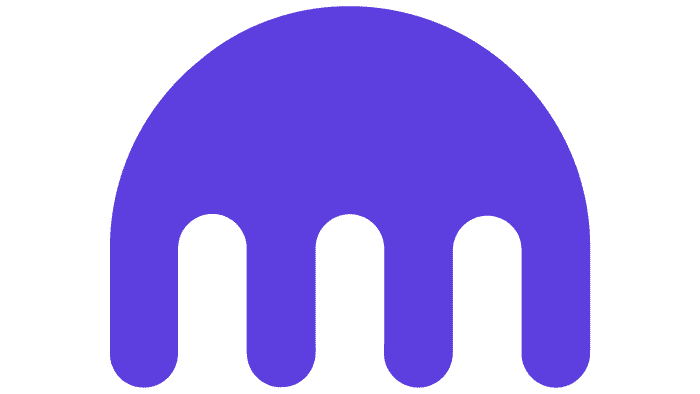 Kraken color codes
Iris

Hex color:
#5841d8
RGB:
88 65 216
CMYK:
59 70 0 15
Pantone:
PMS 266 C
What does the Kraken logo mean?
The logo illustrates the name of the cryptocurrency platform because its main graphic element is Kraken, the sea monster from legends. However, the designers depicted the cephalopod very abstractly, making it look more like a hairbrush. They avoided the scary image on purpose to make the logo not scary and arouse interest and trust.
Does Kraken have a stock symbol?
Kraken doesn't have a stock symbol – it doesn't need one. The reason is that it's an exchange platform, not a token or cryptocurrency.
What is the font of the Kraken logo?
The designers of the Kraken logo used a custom set of glyphs for the inscription. Notably, all letters are lowercase and sans serif. There are several similar fonts, including FreeSans Medium from the GNU FreeFont Project, Foundation Sans Roman from FontSite Inc., Yoxall Regular from Roger White, and Protestant DGL Regular from Digital Graphic Labs.