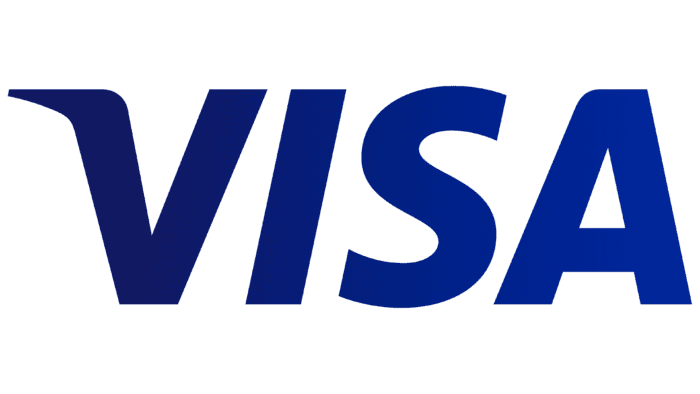 Visa is an American company that provides payment services. It appeared in 1958 when the financial conglomerate Bank of America began issuing BankAmericard cards and established BankAmericard Service Corporation. A little later, the system was renamed, choosing the universal name Visa.
Meaning and History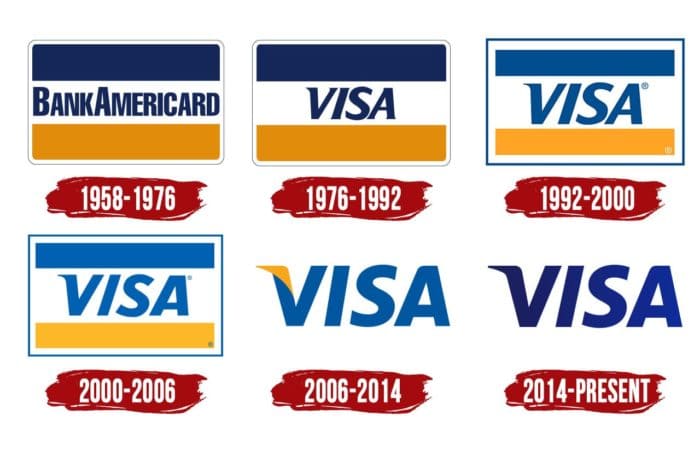 The visual brand identity has not changed much over the past 40 years. The logo with the inscription "Visa" first appeared in the mid-1970s and suffered a few minor redesigns. Before that, a similar brand name was used, but with the phrase "BankAmericard."
1958 – 1976
The first emblem looked like a rectangular plastic card with rounded corners. Its upper part was dark blue, the middle was white, and the bottom was orange. In the center was the inscription "BankAmericard," made in bold sans serif. All letters are uppercase, but "B" and "A" are higher than the rest.
1976 – 1992
To make the brand multinational, the owners renamed the financial system. This is how Visa appeared – one of the most successful brands in the world. The change of name allowed to increase the reach of the target audience, because the geographical connection to America disappeared. And also, it became an occasion for updating the logo.
Designers followed a familiar pattern: they replaced BankAmericard with Visa, preserving the old proportions and colors. The word is written in italics, with an emphasis on the tilt "V." Letters have serifs.
1992 – 2000
In 1992, the palette brightened. The rounded corners of the outer frame became straight, and the outline became wide and blue. This version of the logo is still found in some commercials.
2000 – 2006
At the end of the 20th century, developers increased the letter spacing and slightly reduced the "V" slope. Also, they changed blue to cyan and orange to yellow.
2006 – 2014
Despite the global success, managers decided to revitalize the brand. It seemed illogical to them that the company provides a huge amount of financial services, and only a credit card is displayed on its logo. In November 2003, specialists began to develop a new trademark. It is almost no different from previous versions: in fact, this is the same inscription "Visa," but without rectangular elements and an external frame.
The font is still italic, although the slope has decreased. The protruding corner "V" is painted in yellow to emphasize the clarity and conciseness of the image.
2014 – present
In 2014, the company first abandoned its classic palette. She removed the golden color, which was identified with the hills of California, and left only blue – a symbol of the blue sky. To diversify the logo, designers used a gradient.
Rumor has it that the brand got rid of yellow to get closer to people. Indeed, for many, this color is associated with gold, which means unattainable luxury and prestige. The Visa system, in turn, tried to make loans publicly available.