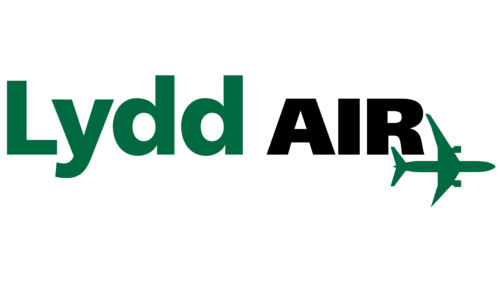 LyddAir Logo PNG
LyddAir logo is a striking and thoughtful visual representation of the charter aviation company based in the United Kingdom. Through a mix of colors, typography, and imagery, the logo conveys a message that resonates with the brand's identity and business.
Green Airplane Symbol:
Realistic Silhouette: The green airplane is depicted in a realistic silhouette without detailed intricacy. The choice of green is unusual for airplane imagery, creating an eye-catching and memorable emblem.
Asymmetrical Wings: Interestingly, the airplane's wings are asymmetrical, with one wing short and sharp and the other long and thickened at the end. This design choice makes the logo unique and adds visual intrigue.
Typography and Division of Brand Name:
Font Style: The company's name is written in a straight, bold font, which lends an authoritative and professional appearance.
Division with Wide Space: The name "LyddAir" is separated into two parts by a wide space, creating a distinct visual separation.
Capitalization Choices: The green "Lydd" has only the first "L" capitalized, whereas the black "AIR" is entirely in uppercase but reduced in size. This differential treatment of text adds an element of sophistication to the design.
Color Choices and Meaning:
Green: Using green for the airplane might symbolize environmental consciousness, a connection to nature, or a departure from the conventional. It sets the brand apart from other aviation companies.
Black: The black color in "AIR" conveys strength and authority, reinforcing the professional nature of the company.
Imagery and Metaphorical Interpretation:
Airplane Symbolism: The airplane is an immediate visual cue to the company's industry, and its stylized depiction adds a modern and creative twist.
Wing Shape: The asymmetric wings might be interpreted as a statement about the brand's unconventional approach, symbolizing innovation, flexibility, or adaptability.
Design Aesthetics and Effectiveness:
Simplicity: The logo's simplicity makes it easy to recognize and remember. Its minimalist design conveys professionalism without unnecessary complexity.
Cohesiveness: Despite its simplicity, the logo is harmonious, with each element contributing to a unified visual narrative.
Marketing and Branding Perspective:
Target Audience Appeal: The choice of color and design likely resonates with a target audience that appreciates modernity, eco-friendliness, or innovation.
Brand Alignment: The logo is aligned with what appears to be the company's brand strategy, visually representing attributes that might be central to their business philosophy.
Strategic Alignment and Representation:
Business Implication: Every aspect of the logo reflects a thoughtful design approach, where elements are carefully chosen to resonate with the charter aviation business.
| | |
| --- | --- |
| Founded: | 2001 |
| Founder: | South East Airports |
| Headquarters: | Ashford, Kent, England, United Kingdom |
| Website: | lyddair.com |
Inaugurated in 2001, LyddAir was a regional airline rooted at London Ashford Airport in Lydd, Kent, England. The establishment of the airline was an initiative by South East Airports, the managing entity of London Ashford Airport.
LyddAir began its operations in July 2001, utilizing a fleet of small turboprop aircraft. The airline initially operated scheduled passenger services from Lydd Airport to various UK and European destinations. These included London City, Edinburgh, Jersey, and Le Touquet.
LyddAir broadened its scope in 2002 by inaugurating a base at London Luton Airport. This enabled the airline to increase its scheduled flights between Luton and regional destinations within the UK and the rest of Europe.
Despite these advancements, LyddAir encountered financial struggles by 2004, leading to its acquisition by a fresh set of owners. The new management decided to recalibrate the airline's focus, pivoting more towards ad-hoc charter flights than scheduled services.
From 2004 to 2006, LyddAir primarily functioned as a charter airline, catering to tour operators, corporate customers, and sports teams. Operating mainly from their core base at Lydd, they provided services to various destinations, such as Spain, France, Italy, and Scotland.
However, LyddAir terminated its operations permanently in April 2006 after a relatively brief service period of five years. High fuel costs and burgeoning competition from low-cost carriers contributed significantly to the airline's closure. Despite its short lifespan, LyddAir has managed to serve over 600,000 passengers.
Meaning and History