Mars is a well-known brand of chocolate bars, founded in 1932. Today, the company is one of the largest manufacturers in the world in its segment and owns various brands of bars that are valued and recognized throughout the world.
Meaning and History
What is Mars?

This name is used both for the American company Mars Incorporated, which has been producing food products since 1911 and for its brand of chocolate bars, which appeared in 1932.
Mars is an iconic brand that is popular in any country in the world. This is a legend. And as a legend, the label has a very strong and recognizable visual identity, which was created for the first time after the founding of the company and which today has only slightly changed.
The Mars logo consists of a word sign. That is, bold red letters in the yellow outline are placed on a black background. The brand style was created in the middle of the 20th century.
Later, in the 1980s, a wordmark was placed on a black background that repeated the outline of the letters. They also replaced the font with a stronger and more modern one.
The logo that we know today was designed in the early 2000s and consists of a verbal sign, a modern typeface that looks hand-drawn and resembles the Comic Sans font with its playful energy lines. The letters are red with a touch of yellow gold, with a three-dimensional and dynamic appearance.
What does the Mars logo mean?
The black oval against the background of the wordmark is associated with space and the planet after which the confectionery brand was named. At the same time, the inscription "Mars" looks defiant because the combination of two colors – red and gold – should attract attention. And tilting the letters to the right gives the impression of dynamics.
The Mars nameplate is located on a horizontally placed black oval, which is slightly stretched, creating a sense of the cosmic plane, adding the meaning of the planet to the brand name.
It is a strong and simple visual identity built on confident lines and vibrant color combinations. The logo shows the brand as timeless and powerful, one that has always been here and will remain for many more years – instantly recognizable classic.
1932 – 1988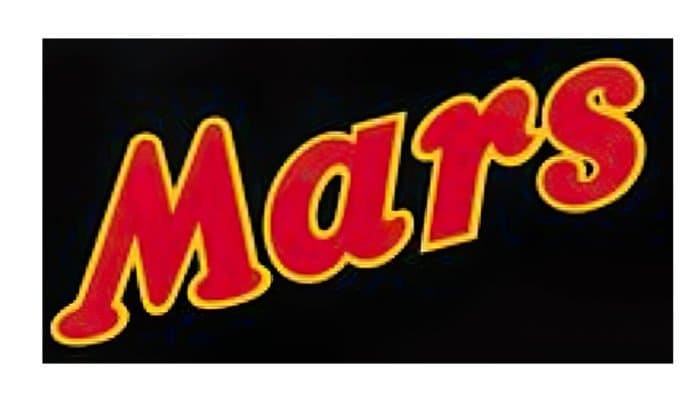 1988 – 2002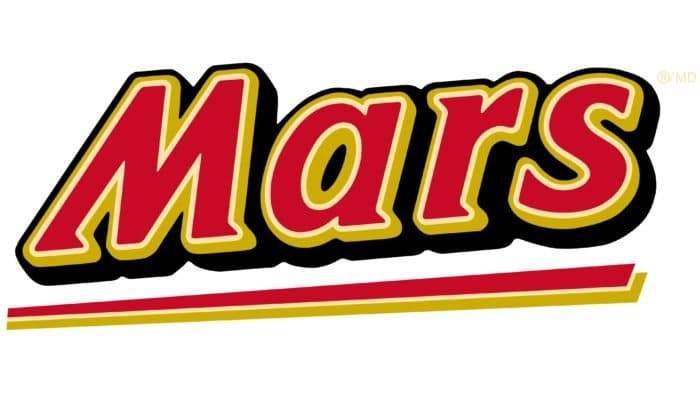 2002 – today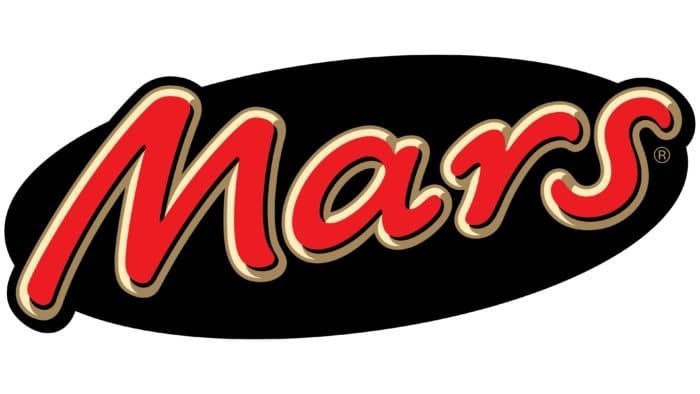 What is the Mars logo?

The chocolate bars brand emblem consists of a red "Mars" lettering on a black oval background. The word is arranged diagonally and in a handwritten script. The letters have a light outline with a shadow.

What is the font of the Mars logo?

The Mars chocolate bars logo was created using a custom script, stylized in a handwritten style. All letters are spaced apart and tilted to the right to create a movement effect. At the same time, the lines are smooth and rounded.