McDonnell Douglas Logo PNG
The McDonnell Douglas logo is a powerful symbol reflecting the brand's important values and benefits. The bold italic upper-case text shows the brand's confidence and strength, while the blue circle against the black space symbolizes the scale and versatility of its operations. The image of a flying plane and a rocket taking off, leaving a trail of red, reflects the brand's commitment to constant development, innovation, and technology improvement.
The McDonnell Douglas emblem expresses the values, benefits, and identity of a company that conducts its business in aviation and defense. The company is committed to excellence, innovation, and progress, with an emphasis on safety and reliability. The logo is a symbol of quality, professionalism, and high technology.
McDonnell Douglas is an aircraft manufacturer and one of the leading developers and manufacturers of military equipment working in aviation and space technology. The identity is based on power, courage, innovation, and technological leadership. The logo is a bright and memorable symbol of the brand that speaks of its outstanding achievements in the world of aviation and space.
McDonnell Douglas: Brand overview
| | |
| --- | --- |
| Founded: | April 28, 1967 – August 1, 1997 |
| Founder: | McDonnell Aircraft and Douglas Aircraft Company |
| Headquarters: | Berkeley, Missouri, US |
Between 1967 and 1997, McDonnell Douglas stood as a significant player in the American aerospace industry. This aircraft manufacturing powerhouse emerged from the unification of two pioneering aircraft companies, McDonnell Aircraft, and Douglas Aircraft, in 1967. With its headquarters in St. Louis, Missouri, McDonnell Douglas carved a notable reputation over the years, manufacturing a vast array of commercial and military aircraft.
The company's contribution to the commercial aviation sector is characterized by the success of its notable jet models, such as the DC-9, DC-10, MD-80, and MD-11 airliners. In the defense sector, McDonnell Douglas's legacy was stamped with the construction of aircraft such as the F-4 Phantom II, F-15 Eagle, F/A-18 Hornet, and AV-8B Harrier II, to name a few.
A significant shift in the company's journey occurred in 1996 when McDonnell Douglas united with Boeing, transitioning into a division under Boeing's umbrella, primarily concentrating on military assignments. Before this merger, particularly in the late 1980s, McDonnell Douglas was one of the largest aircraft manufacturers globally before Airbus ascended to this ranking.
McDonnell Douglas boasted an impressive track record of delivering over 30,000 aircraft and generating revenues surpassing $23 billion at its zenith. The company maintained a large workforce, employing more than 120,000 individuals. The integration with Boeing in 1997 ended the production of McDonnell Douglas's commercial jets, as the focus shifted towards Boeing's models.
Despite the cessation of its operations, McDonnell Douglas's impact on the aviation industry remains significant. Its creations continue to serve global airlines and military forces, echoing the company's substantial contributions to aviation history.
Meaning and History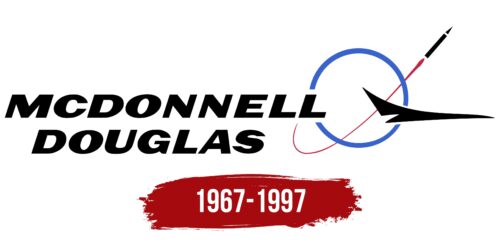 McDonnell Douglas color codes
Han Blue

Hex color:
#3863cd
RGB:
56 99 205
CMYK:
73 52 0 20
Pantone:
PMS 2726 C
Brick Red

Hex color:
#c52443
RGB:
197 36 67
CMYK:
0 82 66 23
Pantone:
PMS 193 C
Black

Hex color:
#000000
RGB:
0 0 0
CMYK:
0 0 0 100
Pantone:
PMS Process Black C