Fashion house Burberry at the beginning of this year, approved a new visual identity, abandoning everything old. In this way, he seeks to show his modernity, love of progress, and desire to please young people.
Helvetica is marching worldwide, bringing simplicity to the identity of companies of all stripes. And now, it has reached fashion, which used to be famous for scrolls, monograms, and serifs. Now they are gone. They are left behind in the last century. They were carried away by the old leaders. And the new ones brought minimalism because, in the modern world, the emblem should look equally good both on the collars of chiffon blouses and in social media feeds. This was immediately understood by Daniel Lee, who replaced Riccardo Tisci as the creative director of Burberry.
So, the company got a different Burberry logo. He opened the year 2023 by cleaning the old roots of the company from "rot" and transplanting it into new soil, which will allow it to be saturated with juices in order to grow, develop, and become taller, more powerful, and more beautiful. The upgraded emblem is a stop sign to ancient principles. It's simple, open, clean, and works on every surface. This results from a rethinking of the fashion brand's strategy after four months of leadership by Daniel Lee, who understands that the fewer frills, the better. But they still need to be present. So, together with CEO Jonathan Akeroyd, he ushered in an era of chic simplicity.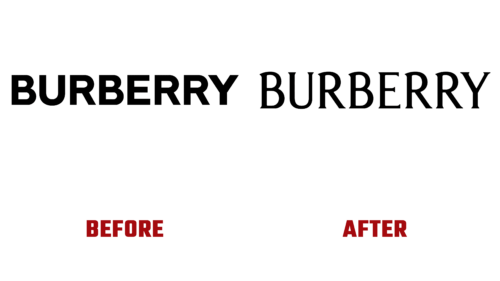 The new strategy found a new typographic form, after which everything fell into place in the identity. Letter by letter, lined up in a clear word, clearly visible at any scale, despite the presence of minimal serifs. They bring zest, hinting that the trademark belongs to the fashion world – several upgrades.
The light and elegant font on traditional lettering.
Tall glyphs are reminiscent of model silhouettes.
The harmonious balance between thin and wide lines.
The integrity of the inscription is due to the small distance between the letters.
Massiveness is also not held in high esteem: the characters are filled with air, so the bold Helvetica does not work. Exquisite signs took their place with sharp protrusions at the ends. Of course, these are not full-fledged serifs, but they are no longer chopped glyphs. The corners are not as sharp as before – they got smooth rounding.