To celebrate its 25th anniversary, Australian theater company Monkey Baa, which specializes in working with youth audiences, has rebranded with a fresh and unpredictable logo. Based at Sydney's ARA Darling Quarter Theatre, Monkey Baa is one of Sydney's leading children's theaters, presenting productions celebrating Australia's history and myths both domestically and internationally.
The new Monkey Baa logo, created in collaboration with Sydney-based design studio Universal Favorite, differs from previous aesthetic norms. The original design featured a minimalist, geometric sans-serif font, and the phrase "theater company" was pushed back to be dominated by the word "Monkey Baa." While the previous design was understated and reflected a playful yet formal tone, the new logo takes a completely different approach.
Moving away from geometric simplicity, the new logo uses Feliciano Type's dynamic slab-serif font Sebenta. The layout is almost anarchic: the words are arranged in disorder, and the horizontal shape of the logo can be read in any order. This adventurous design may defy conventional reading rules, but it epitomizes Monkey Baa's ethos of valuing creativity and imagination over utilitarianism.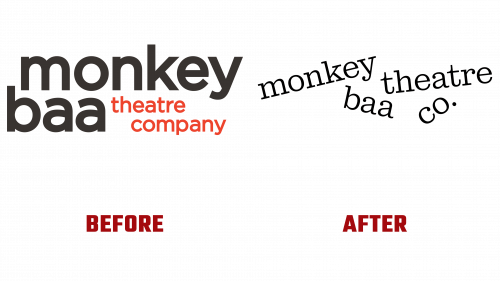 Despite these avant-garde elements, the new logo has received positive feedback, reflecting the theater's commitment to igniting the creative spark in young minds. The Monkey Baa logo has already appeared on various promotional materials and online platforms. Interestingly, a more streamlined horizontal version of the logo is often used, perhaps succumbing to the practical limitations of the original chaotic design.
The rebranding is timed to coincide with Monkey Baa's quarter-century anniversary in the field of children's theater. Throughout its existence, the company has succeeded in bringing to life stories deeply rooted in Australian culture and designed to nurture young minds. The rebranding, ushering in a new era, seems less a departure than an evolution, embodying the theater's philosophy that creativity should lead the way. At the same time, traditional design principles do not lose their relevance.