Montenegro Airlines Logo PNG
Montenegro Airlines: Brand overview
After many years of providing vital air service to Montenegro, Montenegro Airlines a.d. (Montenegrin: Montenegro plans) will sadly close its operations on December 26, 2020. As a national carrier headquartered in Podgorica, Montenegro Airlines played an important role in the operation of Podgorica Airport and Tivat Airport, offering scheduled and charter flights to various European destinations.
Founded in May 1994, Montenegro Airlines started its journey and, within three years, began flying with a single Fokker 28 aircraft. It proudly served as the flagship of the newly independent Montenegro. Over time, the airline expanded its network, gradually covering the entire Balkan region.
In the early 2000s, Montenegro Airlines entered a period of transformation by modernizing its fleet. The introduction of modern aircraft, including the Fokker 100 and Embraer 195, expanded the airline's capabilities and offered customers a wider range of destinations.
Despite the challenging circumstances, Montenegro Airlines reluctantly bid farewell to the airline in December 2020, leaving an indelible mark in the history of the industry.
Meaning and History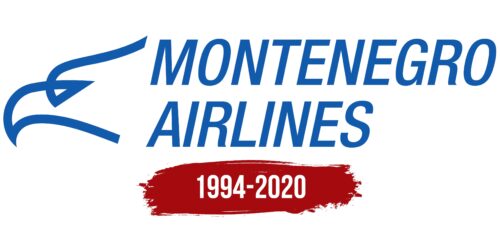 What is Montenegro Airlines?

Montenegro Airlines was Montenegro's flagship carrier, symbolizing the spirit and culture of the country from its headquarters in Podgorica. Founded in 1994, the airline quickly became Montenegro's premier ambassador of Montenegrin hospitality and heritage in the skies. For many years, it has served as the main link between Montenegro and the world, connecting it to numerous European destinations.
1994 – 2020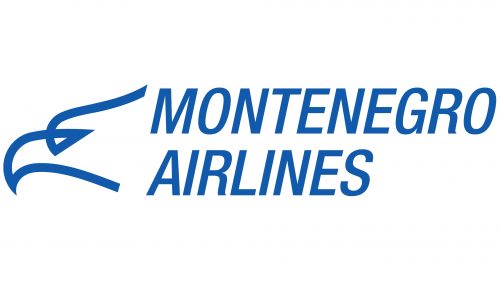 The eagle is the main symbol of the Montenegro Airlines logo. This symbol has forever remained the personal mark of the company, as the airline no longer exists and has been transformed into Air Montenegro. The design is based on a continuous line depicting the neck, beak, eye, and head of a bird. All elements are completely geometric and flowing. Next to it is the name of the airline, made in a strict style. The font is uppercase; the letters are bold, chiseled, and slightly italicized. A barely noticeable slope gives the emblem dynamism, making it seem animate. The basic color of the emblem is blue.
The use of the eagle, often a symbol of freedom and majesty, indicates the ambition and vision of the company. Using blue as a primary color is a common option to create a sense of reliability and professionalism. The design solution of the logo allows to combine traditional symbolism with modern aesthetics.