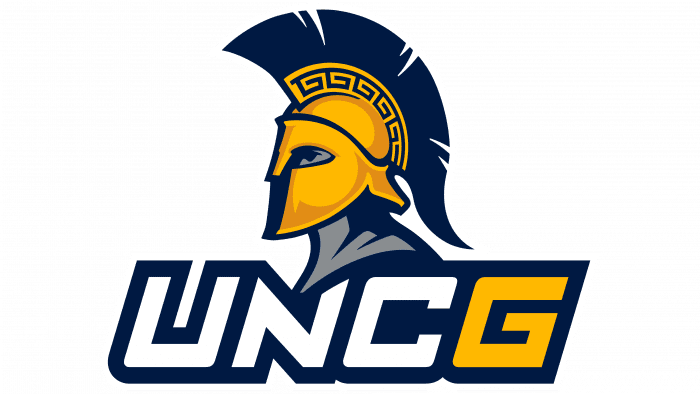 NC-Greensboro Spartans Logo PNG
The Greensboro University Sports Team Association, established in the late 40s of the last century, identifies itself with an emblem of historical themes. The NC-Greensboro Spartans logo, in a concise form, reflects the essence of the name and the desire of athletes to match the form and spirit of the Spartans.
NC-Greensboro Spartans: Brand overview
| | |
| --- | --- |
| Founded: | 2001 |
| Headquarters: | Greensboro, North Carolina, U.S. |
| Website: | uncgspartans.com |
NC-Greensboro Spartans is an association of sports teams that belong to the University of North Carolina at Greensboro. Located in Greensboro, North Carolina, it is part of the Southern Conference and Division I of the NCAA. The entire division is run by Kim Record and has 16 men's and women's teams, including basketball, baseball, football, tennis, and others.
Meaning and History

The history of this sports organization begins in the late 40s of the last century with the participation of WCUNC students in national golf tournaments (1948). Since the fall of 1991, all teams have been competing in the NCAA Division One.
2001 – 2009
In 2001, the UNCG teams got an emblem with a Spartan, which echoes the name. It depicts a warrior of athletic build in full ammunition: with a gladiator's helmet, sword, and shield. He lunges forward, showing his readiness to attack. Below it is a pedestal with a large "Spartans" inscription and a smaller "UNC Greensboro" inscription. The "S" in the first word is larger than all the others, except for the "R," which is almost comparable to them. Greek-style ornament is depicted under the inscriptions and on the shield.
2010 – 2019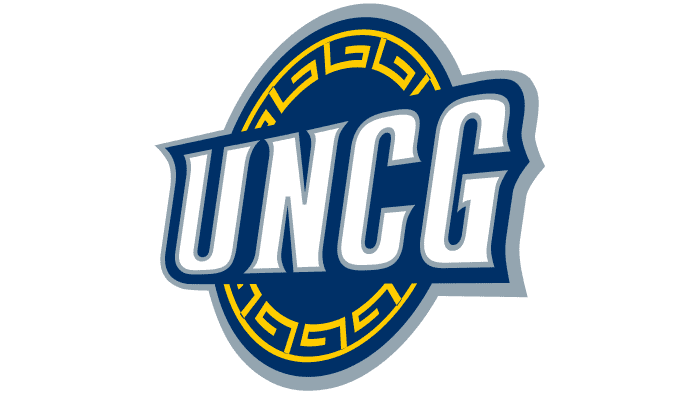 During this period, a minimalistic emblem was used, made in the same design as the previous version, but in a stripped-down form. Only a shield with an ancient Greek pattern on edge remained from the previous elements. It is crossed horizontally by the abbreviation UNCG in 3D format.
2020 – today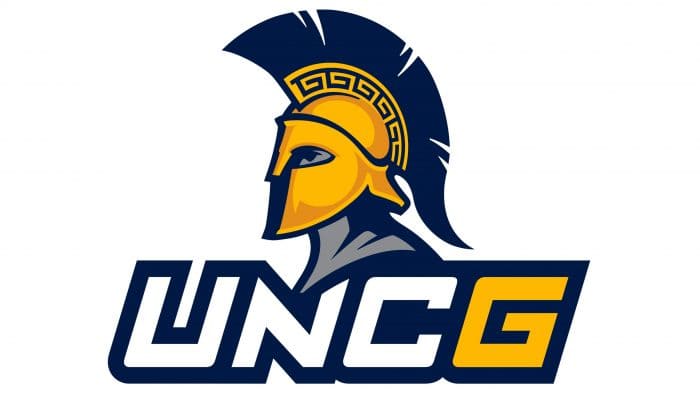 When revising the emblem, the developers moved away from the shield image and chose other details from the original version – particularly the Spartan and the helmet. The warrior's head is in profile and directed to the left. On the helmet, there is a wide comb with an ornament in the Greek style. At the bottom is the word "UNCG" with an emphasis on the letter "G," which, like the helmet, is painted gold.
Font and Colors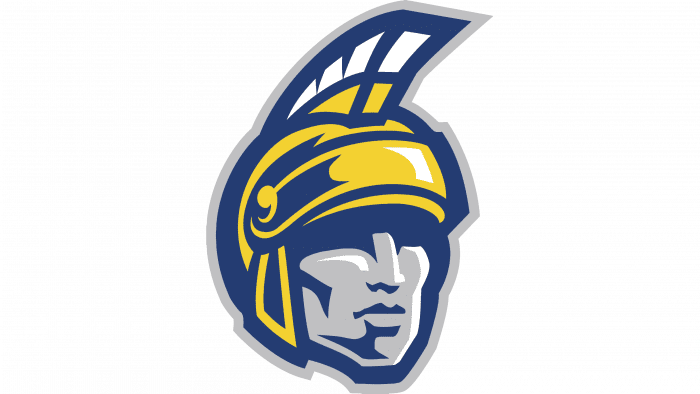 The teams' branding is associated with the name of the sports department of NC-Greensboro Spartans, so there are Spartan attributes and a warrior on it. At first, it was depicted in full growth, but then only individual elements began to be used, which made it easier for the logo to be visually perceived on various media.
NC-Greensboro Spartans color codes
Oxford Blue

Hex color:
#0f2044
RGB:
15 32 68
CMYK:
78 53 0 73
Pantone:
PMS 2768 C
Selective Yellow

Hex color:
#ffb71b
RGB:
255 183 27
CMYK:
0 28 89 0
Pantone:
PMS 137 C
Silver

Hex color:
#bec0c2
RGB:
190 192 194
CMYK:
2 1 0 24
Pantone:
PMS 428 C