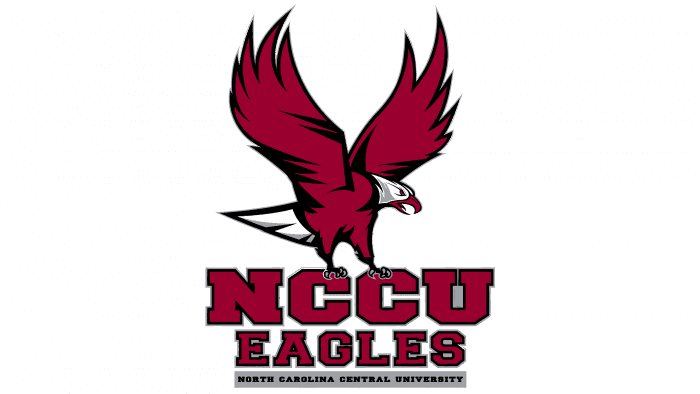 NCCU Eagles Logo PNG
The NCCU Eagles logo distinguishes university athletes, the central element associated with the name, and the text highlights it. The composition of the eagle and the text symbolize the constant readiness for an attack and dynamism.
NCCU Eagles: Brand overview
| | |
| --- | --- |
| Founded: | 2006 |
| Headquarters: | Durham, North Carolina, U.S. |
| Website: | nccueaglepride.com |
The NCCU Eagles are the 14 teams that are part of the sports division of North Carolina Central University. They are located in Durham, North Carolina, and belong to the NCAA Division I (Football Championship Subdivision). They are also members of the Mid-Eastern Athletic Conference. Among them, there are men's and women's teams in basketball, baseball, bowling, volleyball, football, tennis, and other disciplines.
Meaning and History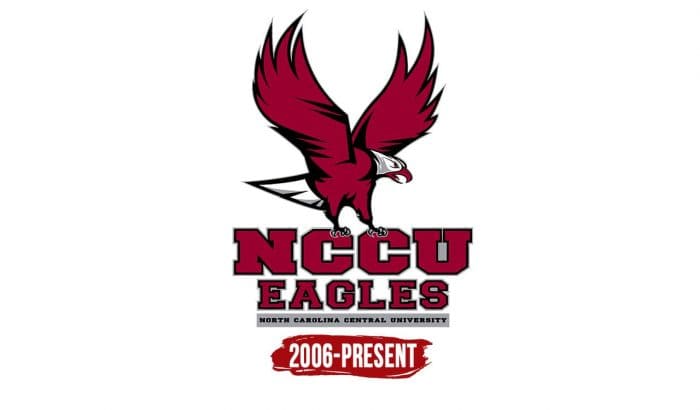 The current emblem of the university sports organization was adopted in 2006. The image used in it is directly related to the group's name and represents a large eagle. It is he who serves as the central element.
The logo also has a text part over which a predator flies. The words are arranged in three tiers. The top line is the largest: the university abbreviation is written on it – "NCCU." The middle tier is smaller, with the second part of the name – "Eagles." The third is a phrase consisting of the expanded name of a higher educational institution – "North Carolina Central University." The first two words are burgundy, the third is black and placed in a long gray rectangle.
What is NCCU Eagles?

NCCU Eagles (more accurately, North Carolina Central Eagles) is an athletic department consisting of 14 teams from North Carolina Central University for participation in intercollegiate programs. It is located in Durham and competes at the Division I level in the NCAA (FCS), representing the Mid-Eastern Athletic Conference. The golfers are members of the NEC.
Font and Colors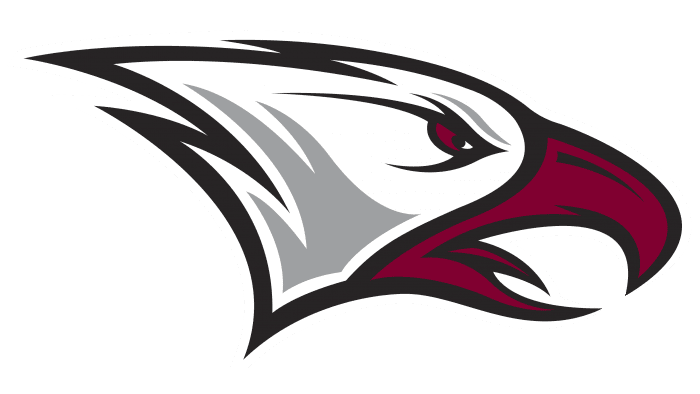 The eagle is depicted with large spread wings. They are raised, as if at the moment of a swing. The tail is fanned out and has one sharp protruding end. The bird's claws cling to the central letters "CC." The head is directed downward. The beak is half-open, and the tip of the tongue protrudes from it. All details are outlined in black. The inner strokes are made with the same color. With its formidable appearance, the predator frightens the enemy, demonstrating its readiness to proceed to an active attack.
NCCU Eagles color codes
Burgundy

Hex color:
#880023
RGB:
136 0 35
CMYK:
0 100 74 47
Pantone:
PMS 187 C
Spanish Gray

Hex color:
#8e9093
RGB:
142 144 147
CMYK:
3 2 0 42
Pantone:
PMS 877 C
Black

Hex color:
#000000
RGB:
0 0 0
CMYK:
0 0 0 100
Pantone:
PMS Process Black C