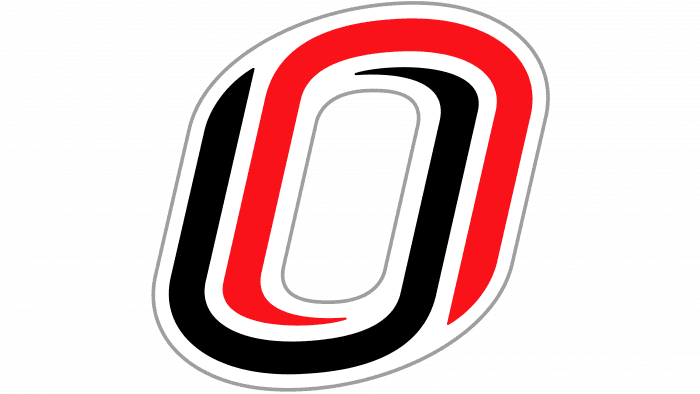 Nebraska-Omaha Mavericks Logo PNG
The modern Nebraska-Omaha Mavericks logo is abstract, minimalist lettering that emphasizes the name and team colors. Although today's logo is far from the original emblem in shape, color, and detail, it still looks unusual among many other logos.
Nebraska-Omaha Mavericks: Brand overview
| | |
| --- | --- |
| Founded: | 1997 |
| Headquarters: | Omaha, Nebraska, U.S. |
| Website: | omavs.com |
Nebraska-Omaha Mavericks is a sports association that has 16 teams sponsored by the University of Nebraska Omaha. They are located in Omaha, Nebraska, and are run by Trev Alberts. The branch is a member of the NCAA Division I and is a member of the Conference Summit League, except for hockey players who belong to the National Collegiate Hockey Conference. Among the most successful disciplines are baseball, basketball, football, swimming, and wrestling.
Meaning and History

Modern versions of university emblems date back to 1997 when an unbranded bull was chosen as the main element. This image was used for two periods until it received a new design – abstract.
What is Nebraska-Omaha Mavericks?

Nebraska-Omaha Mavericks (currently known as Omaha Mavericks) is an athletic department that participates in intercollegiate programs on behalf of the University of Nebraska Omaha. The 16 student teams that are part of the department compete in NCAA Division I and are members of The Summit League. The exception is the hockey team, which plays as a part of the NCHC.
1997 – 2003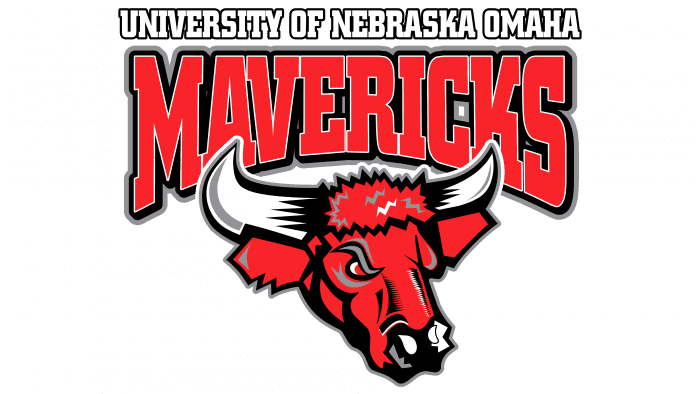 The logo of that time depicts the head of a bull with powerful horns. The look of the animal is stern, frowning, as evidenced by frowning eyebrows and swollen nostrils as if a bull is preparing to attack an opponent or wants to frighten him with a formidable look. There are two inscriptions: in the first row – the name "University of Nebraska Omaha" in small print, in the second – the nickname "Mavericks" in large letters with a bend at the bottom. The main colors of the logo are red-crimson, black, light blue, and white. There is also a gray border.
2004 – 2010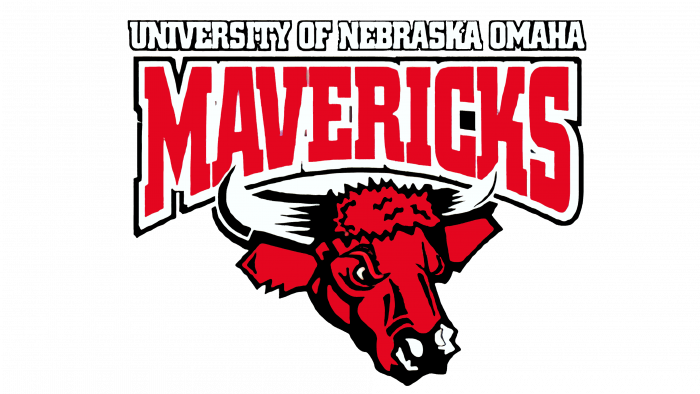 In 2004, the management decided to simplify the palette, so they dropped most of the colors, leaving only dark crimson, black and white. They form a contrasting background and create an aura of tension. This is a psychological trick to intimidate an opponent. The drawing style has also been changed: the number of strokes and small details have been reduced. The words have a dark border.
2011 – today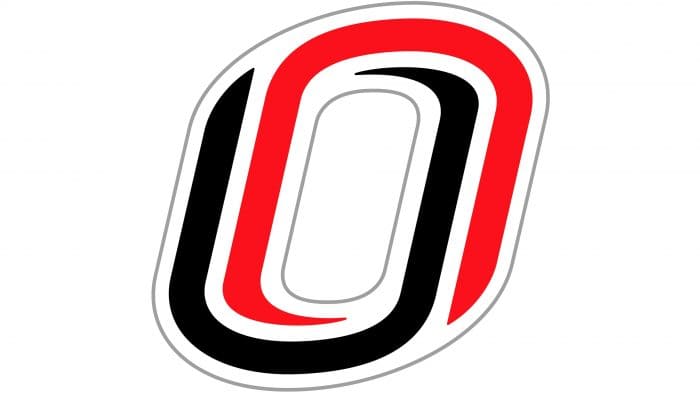 Now an abstract version is used, in which only the corporate palette remained from the previous logos. The design is made in the shape of the letter "O." The inscriptions have disappeared.
Font and Colors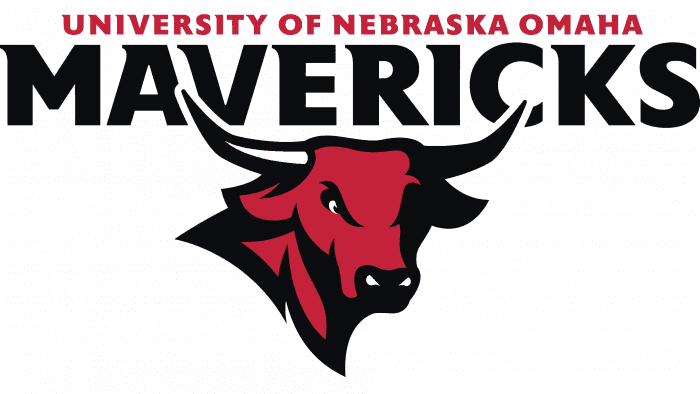 The modern version consists of two parts, combined in the form of "O." It depicts stylized horns with pointed ends. They do not intersect, but run parallel and directed inward. Moreover, one element is red, and the second is black. The background is a negative space formed by two closed lines.
Nebraska-Omaha Mavericks color codes
Maximum Red

Hex color:
#d71920
RGB:
215 25 32
CMYK:
0 88 85 16
Pantone:
PMS Bright Red C
Granite Gray

Hex color:
#636568
RGB:
99 101 104
CMYK:
5 3 0 59
Pantone:
PMS Cool Gray 10 C
Black

Hex color:
#000000
RGB:
0 0 0
CMYK:
0 0 0 100
Pantone:
PMS Process Black C