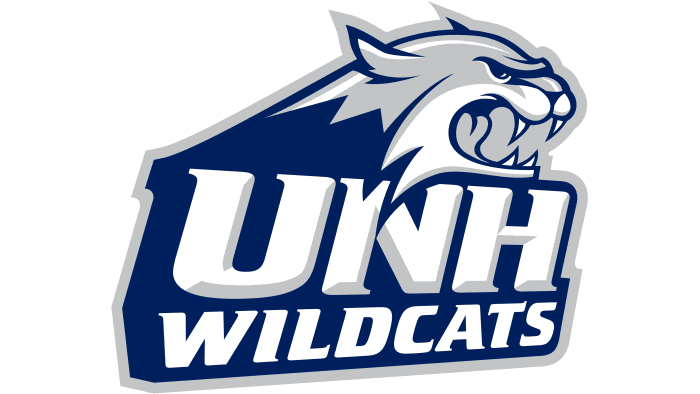 New Hampshire Wildcats Logo PNG
Teams under the wildcat symbol defend New Hampshire's athletic interests. The New Hampshire Wildcats logo stands for: a symbol of the cunning, the ability to "read" enemy tactics, attention and focus, strength and fierceness characteristic of the organization's athletes.
New Hampshire Wildcats: Brand overview
| | |
| --- | --- |
| Founded: | 2000 |
| Headquarters: | Durham, New Hampshire, U.S. |
| Website: | unhwildcats.com |
New Hampshire Wildcats are intercollegiate teams representing the University of New Hampshire. Like the university, they are located in Durham, New Hampshire (USA). The sports department participates in the National Collegiate Athletic Association (Division I). Its members are part of the structure of many conferences, including the America East Conference, Hockey East, Colonial Athletic Association, East Atlantic Gymnastics League, Eastern Intercollegiate Ski Association. In general, the university sports association consists of 19 teams, including hockey, football, gymnastics, athletics, basketball, etc. Marty Scarano heads the department.
Meaning and History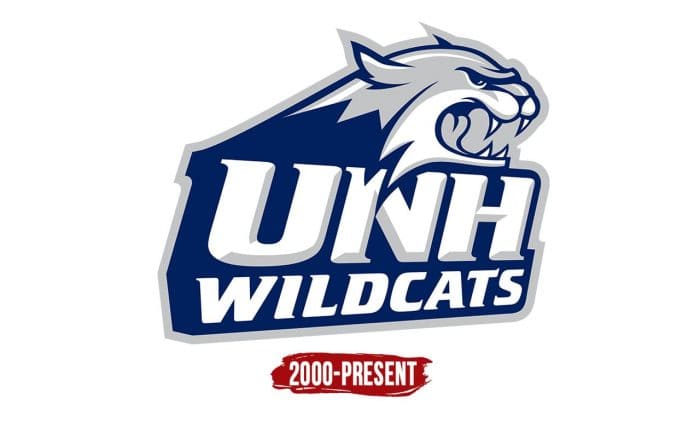 Although the sports program was initiated in 1866, the image of a cat on the organization's logo first appeared in 1926. Following a vote, Wildcat became the college's official nickname. Students chose it from options such as Durham Bulls, Eagle, Husky, Unicorn. They thought that it would be more harmonious for the teams to have a name associated with a wild cat – small and aggressive, like New Hampshire itself.
As a result, her head is depicted on the emblem, and in the lower part, there is a two-tiered inscription. In the top line – the abbreviated name of the university "UNH" in the bottom line – the nickname of the sports teams "Wildcat." The first word is written in large print, the second in small. All letters are in uppercase.
What is New Hampshire Wildcats?

New Hampshire Wildcats is an athletic department formed to participate in intercollegiate competitions on behalf of the University of New Hampshire. It includes 19 student teams that are part of the America East Conference and compete in the NCAA (Division I). Some teams are members of other associations: Skiers in EISA, Gymnasts in EAGL, Hockey players in Hockey East, Football players in CAA. Their primary location is Durham.
Font and Colors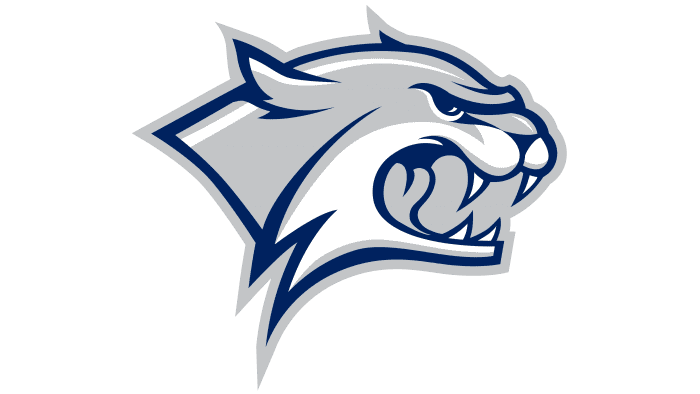 The current version of the logo was approved in 2000. It shows the head of a wild cat, turned in profile. The ears of the animal are pressed, the mouth is open, the tongue is curved, the brows have frowned. The beast's whole appearance suggests that it growls and is ready to attack the enemy at any moment. The lettering is shaded, so it looks three-dimensional.
Graphic and text parts are designed in a single palette and consist of blue, white, and gray. The colors are symbolic of the teams as they relate to the surrounding attractions. The deep blue Pantone 287 denotes the waters of the Atlantic Ocean, while the white denotes the White Mountains.
New Hampshire Wildcats color codes
Maastricht Blue

Hex color:
#041e42
RGB:
4 30 66
CMYK:
94 55 0 74
Pantone:
PMS 2768 C
Medium Gray

Hex color:
#bbbcbc
RGB:
187 188 188
CMYK:
1 0 0 26
Pantone:
PMS Cool Gray 4 C