Citroën returned to the original concept of the logo, as it was introduced in 1919 by the company's founder, André Citroën. And this is only the tenth update in the history of the automotive giant. The announcement of an important event took place at the end of September 2022, and the practical implementation of the project started in October.
According to Alexandre Revert, lead brand designer, the redesign of the personal badge represents innovative mobility and genuine car accessibility for all, as the herringbone chevron is a gear imprint. This is how the founder of the metalworking plant saw the logo. Now the automaker intends to actively introduce the latest technologies in order to switch to the production of electric vehicles.
The emblem was updated by Citroën's own service and design studio, Stellantis. They proposed an icon with a subtle evolution, in which strict technical precision is harmoniously combined with the softness of the oval. The result is a dynamic corporate identity that signifies the brand's commitment to greater excellence and a move toward electric mobility.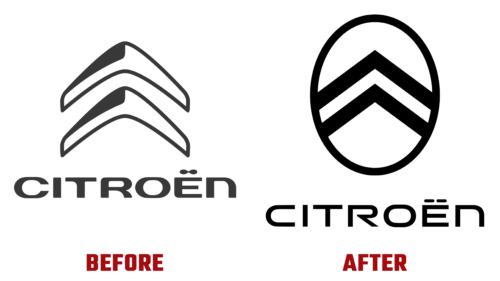 The iconic double chevron remains in the spotlight. It almost repeats the outlines of its predecessor – the debut badge of 1919. The herringbone pattern consists of two curved lines whose corners point upward, reminiscent of a tire print. This time the stripes are thickened and neatly inscribed in a vertical oval. Compared to the original version, it is slightly shorter. The ends of the bent lines do not extend beyond the ring, and the company's name is added at the bottom, typed in a redesigned font.
The simplified color palette maintains dynamic contrast and complements the logo well because it enhances the automotive brand identity. The modernized identity will be implemented gradually. Initially, the logo will appear on the company's corporate and information products, will accompany various events, and from mid-2023, it will decorate production and concept models of Citroën.