In an era where the global automobile industry is steering towards electric vehicles (EVs), Opel has demonstrated its readiness to embrace this shift. The automaker has recently refreshed its logo, representing the company's commitment to a greener future. Opel has revealed that its revamped emblem will commence its journey on the brand's production vehicles as of next year, with the entire product range gradually reflecting the new logo over the following years.
Opel's redesigned logo showcases a lightning bolt badge, referred to as "Blitz" in German, reinforcing the brand's affiliation with electricity. This symbolic shift echoes the company's goal to evolve into an exclusively electric vehicle brand in Europe by 2028. Of these ambitions, Opel's CEO, Florian Huettl, shared plans to incorporate 15 electric models into the company's portfolio within the year.
The maiden production vehicle bearing the new logo is slated for a 2024 launch. However, the company plans to exhibit the overhauled badge prominently over the next year. While the exact model to first display the fresh logo remains under wraps, Opel has vowed an extensive presentation of the emblem at the Munich Motor Show, also known as IAA Mobility, including a surprise reveal for attendees.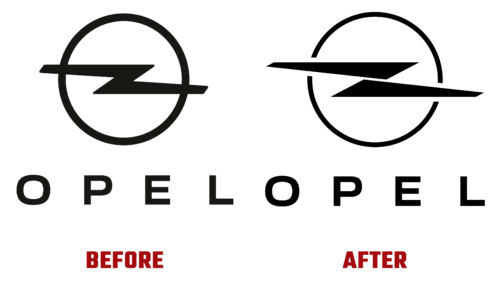 Opel's previous branding alteration occurred in 2020, as the automaker integrated into the PSA Group, which subsequently joined forces with Fiat Chrysler Automobiles to form Stellantis. The updated logo maintains its vital components but incorporates additional space around the central lightning bolt symbol, separating it from the encircling ring. This minor adjustment imparts a more streamlined aesthetic to the logo.
The emblem will continue to occupy its prime position on the Opel Vizor brand face, an integral part of the vehicle's interior and exterior design. The edgy and striking new "Blitz," intersecting the crisp outer ring, breathes a contemporary and progressive vibe into Opel's legendary logo, mirroring the brand's forward-thinking ethos.