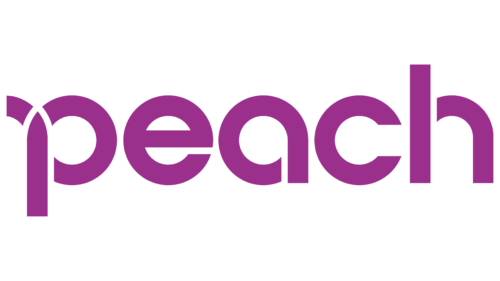 Peach Aviation Logo PNG
The Peach Aviation logo is a bright and distinctive emblem that immediately catches the eye. The symbol includes the word "peach" in bold lowercase letters that take center stage on the logo.
The rich purple color of the logo symbolizes the energy, creativity, and innovation that is Peach Aviation's core value. The company is committed to providing its customers with a high-quality travel experience with cutting-edge technology and amenities.
The bright and memorable design of the symbol allows Peach Aviation to stand out in the airline market, attract new customers and strengthen the bond with existing passengers.
Peach Aviation's emblem reflects the company's values and advantages, uniqueness, and innovative air travel approach. The bold and modern style of the brand identity emphasizes the young and dynamic nature of the brand, creating an association with enjoyable and relaxed travel. The brand's visual identity becomes easily recognizable and unforgettable for travelers worldwide.
Peach Aviation: Brand overview
| | |
| --- | --- |
| Founded: | 10 February 2011 |
| Founder: | All Nippon Airways |
| Headquarters: | Tajiri, Osaka, Japan |
| Website: | flypeach.com |
Peach Aviation, a Japanese budget airline, has its headquarters at Kansai International Airport in Osaka. The airline was created in 2011 as a collaborative initiative between ANA Holdings and the Hong Kong-based First Eastern Investment Group.
Operating exclusively with Airbus aircraft, specifically the A320 and A321 models, Peach Aviation boasts a fleet of more than 30 aircraft. Its network includes flights within Japan, as well as to South Korea, China, Taiwan, and various Southeast Asian countries, primarily from its central hubs in Osaka and Tokyo.
The airline's service model revolves around affordability and simplicity, with fare structures that allow passengers to pay for additional services as needed. It caters primarily to leisure and budget-conscious travelers, offering inexpensive base fares for flights that average less than three hours.
Additional in-flight amenities, such as meals, snacks, seat selection, checked baggage, and priority boarding, are available for an extra fee. The airline also has codeshare agreements with several Oneworld airlines, including Finnair, Qatar Airways, and Royal Jordanian.
Peach Aviation holds the distinction of being Japan's first low-cost carrier. Despite competition from Vanilla Air and Jetstar Japan, it continues to grow its market share. The airline's accomplishments have been recognized with various awards, including being named the Best Low-Cost Airline in Asia by AirlineRatings.com.
Meaning and History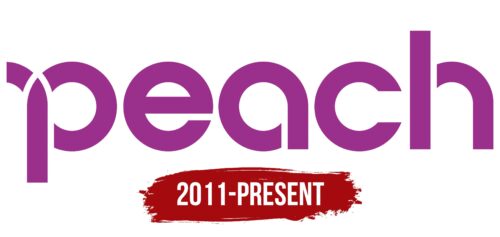 Font and Colors
The Peach Aviation logo font plays an important role in creating a vibrant and memorable visual brand identity. "Peach" is written in bold lowercase letters, which gives the logo simplicity and accessibility. The geometric and clean lines of the font create a modern and minimalist look that matches the company's innovative approach to air travel.
The logo's color also plays an essential role in its visual perception. The bright purple color was chosen for the Peach Aviation symbol to reflect the energy, creativity, and innovation that are the company's core values. The color purple is associated with luxury, quality, and excellence, highlighting Peach Aviation's commitment to providing passengers with superior service and comfort.
The font and color of the Peach Aviation logo are closely tied to the overall brand image and values, making it easily recognizable and appealing to travelers worldwide.
Peach Aviation color codes
Vivid Violet

Hex color:
#9b308c
RGB:
155 48 140
CMYK:
0 69 10 39
Pantone:
PMS 513 C