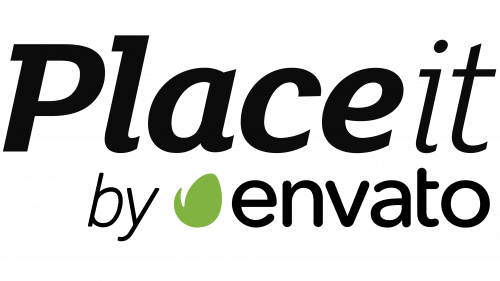 Placeit Logo PNG
The Placeit logo has a simple design, despite belonging to a creative online platform that offers users a wide array of layouts and templates for branding. The business-like emblem symbolizes stability, infallibility, and reliability.
| | |
| --- | --- |
| Founded: | 2012 |
| Founder: | Envato |
| Headquarters: | Guadalajara, Jalisco, Mexico |
| Website: | placeit.net |
The online platform Placeit has been around since 2012 and is owned by Envato. It's intended for people with minimal design skills who need to create a video, design a logo, arrange a business card, get a T-shirt with an original print, and other marketing goods. The website provides all the necessities for this, including layouts and tools for their customization. After testing the free trial version, users must purchase an unlimited subscription or pay for each product separately.
Meaning and History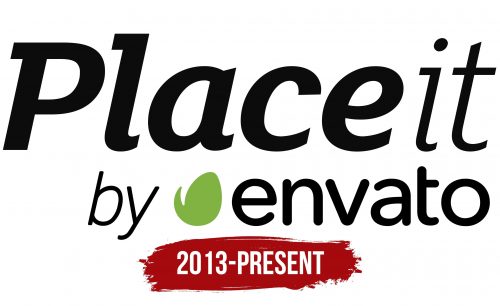 Since Placeit is a creative online platform, it should have a creative logo. But the brand owners decided otherwise and placed a fairly modest emblem with a white inscription at the top of the site. The only unusual element is a green blot, taken from the identity of the Envato company, which is based in Australia and owns several internet resources, including Placeit. This blurred spot with a tail simultaneously resembles a paint smear and a budding tree bud; it's associated with the emergence of something new, certainly bright and positive.
What is Placeit?

Placeit is a website that simplifies work with design and marketing. It contains several thousand layouts for different types of content, and users can customize existing templates to fit their needs. The service allows for downloading created materials in different formats, such as high-resolution images, videos, and even GIFs.
2013 – today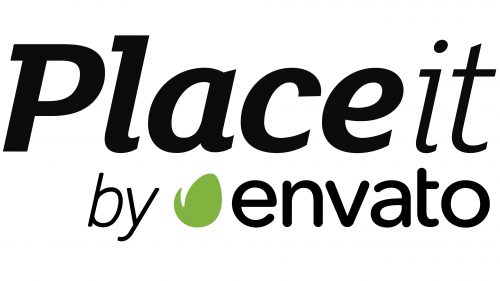 The service's logo is visually divided into several parts with different fonts. For example, in the word "Placeit," the letters are italic, and almost all have rectangular serifs, but "i" and "t" are too thin compared to the rest of the glyphs. The preposition "by" located below is written in italics with rounded corners, and the word following it, "envato," is typed in semi-bold lowercase characters without serifs. This shows the brand's striving for diversity in design and typography.
Before the name of the company that owns the website, there is a light green spot in the form of an ovoid with a protruding pointed stripe. This graphic symbol is associated with creativity, as Placeit provides ready-made templates – there, you can customize, edit, and add your elements to get unique content.
Font and Colors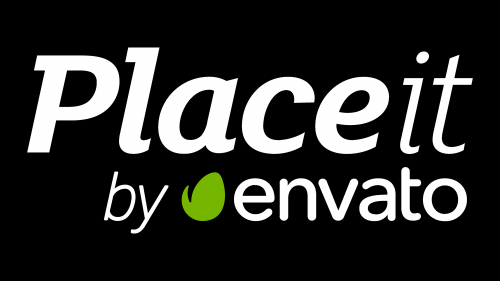 The first four letters in the word "Placeit" are written in a font similar to Segaon Extra Bold Italic, except in the logo, the "P" and "l" have rectangular serifs, and the vertical stroke of "a" is sharpened at the top. A thinner typeface is used for "i" and "t." The preposition "by" has common features with FullerSansDT Light Italic but differs in soft shape. The "envato" also has rounded corners; however, the letters are bold and upright. Overall, the logo combines grotesques and antiques of various styles, which have both sharp cuts and streamlined shapes.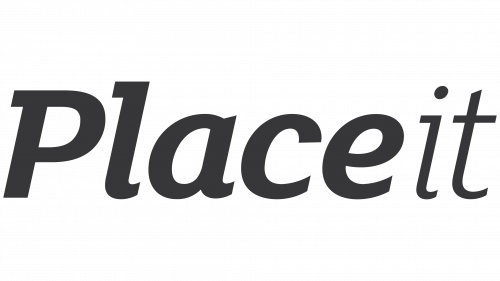 The inscription can be black or white, depending on the background. But the abstract blot is always green. This color reflects the freshness of ideas, novelty, and drive for creativity. It creates a visual accent, focused at one point in the emblem.