PotteryBarn Logo PNG
PotteryBarn: Brand overview
In 1949, Pottery Barn, the brainchild of Paul Secon and Morris Secon, was born on the bustling streets of San Francisco, California. The company initially thrived as a supplier of pottery and various home décor items. In the late 1950s, there was a shift in Pottery Barn's product line toward wood furniture. This transition was accompanied by the expansion of the company's presence in several San Francisco Bay Area locations.
A turning point in Pottery Barn's development came in 1986 when Gap Inc. took the brand under its wing. This transition catalyzed the development of Pottery Barn, allowing it to spread its wings across the expanse of the United States. A year later, in 1987, Pottery Barn expanded its reach to households across the country with its first catalog, thus strengthening its mail-order-based enterprise.
2002 marked another turning point when Williams-Sonoma acquired Pottery Barn from Gap Inc. Under new leadership, Pottery Barn went down the path of creating more upscale home décor. The brand further diversified, introducing niche segments such as Pottery Barn Kids in 2003 and Pottery Barn Teen in 2008.
Today, Pottery Barn is represented by more than 200 retail stores located in the United States, Canada, and Australia. The brand's digital presence, centered on potterybarn.com, is also significant. With a wide range of furniture, bedding, lamps, rugs, drapes, tabletops, and more, Pottery Barn has cemented its position as a vanguard in the world of luxury home furnishings.
Meaning and History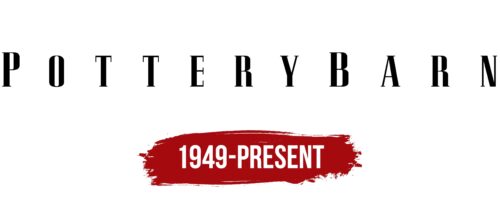 What is PotteryBarn?

Pottery Barn is an American online retailer of home furnishings and brick-and-mortar. Its stores are located in the United States, Canada, Mexico, and Australia, making it the preferred retailer for those looking to enhance the interior of their homes. Pottery Barn, operated by Williams-Sonoma, Inc. and located in San Francisco, California, offers high-quality furniture and accessories for residential decorating.
1949 – today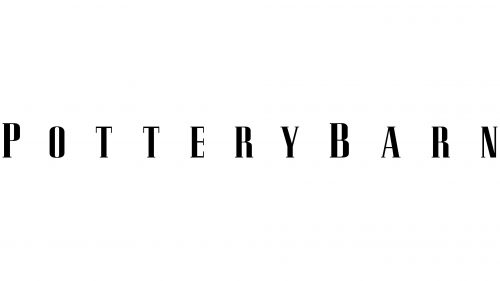 The elegant PotteryBarn logo consists of the name of the brand written in a single line. To emphasize the two parts of the name, the designers made the already big letters even bigger. Thus, they emphasized the words "Pottery" and "Barn." At the same time, all the letters are capitalized, which gives the emblem an unusual look. The same effect is given by the wide distance between the letters: it is really big, but it does not break the exclusive look. The font is tall and blocky, with small decorative serifs that give the tall black letters a fancy look.
The wide spacing between the letters creates an open and inviting feel to the logo. The small decorative notches on the tall letters resemble small hats or crowns, giving each letter a distinctive but not flashy shape.
PotteryBarn color codes
Black

Hex color:
#000000
RGB:
0 0 0
CMYK:
0 0 0 100
Pantone:
PMS Process Black C