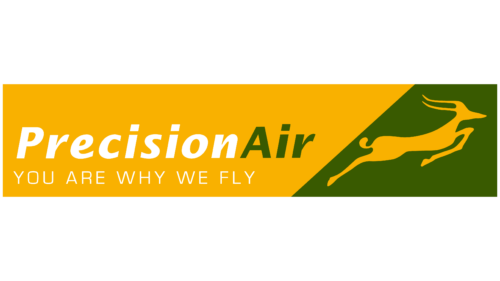 Precision Air Logo PNG
Precision Air: Brand overview
Founded in 1991, Precision Air Services Plc has been instrumental in connecting Tanzania with the rest of East Africa. Based at the Julius Nyerere International Airport in Dar es Salaam, the airline has become one of the leading carriers in the region, offering scheduled passenger services to Nairobi, Entebbe, and various Tanzanian airports and airstrips.
Precision Air was established in January 1991 and commenced operations in 1993, revolutionizing air transportation in Tanzania.
Precision Air's journey in the aviation industry has had its ups and downs. In June 2013, Precision Air faced financial difficulties due to losses incurred on flights to Johannesburg, South Africa.
Precision Air has demonstrated its resilience by continually improving its operations, increasing reliability, and expanding its route network.
Meaning and History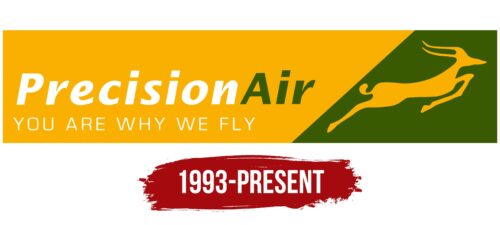 What is Precision Air?

Established in 1993, Precision Air Services Plc has grown to become Tanzania's leading airline, with its headquarters at Julius Nyerere International Airport in Dar es Salaam. Starting as a private charter airline, it has grown strategically and now serves a wide network of routes. In 2003, the company entered into a strategic partnership with Kenya Airways, strengthening its market position and paving the way for its successful listing on the Dar es Salaam Stock Exchange in 2011.
1993 – today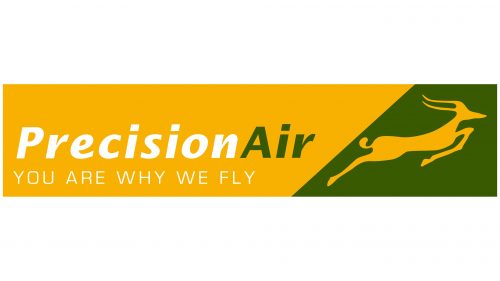 The Tanzanian airline logo prominently features a gazelle. This light and quick-footed animal, capable of running with incredible agility, serves as its symbol. The gazelle is shown moving to the right and is captured in mid-jump, with its front legs raised and pressed against its body while its hind legs are also in the air. The elegant yellow silhouette is set against a green background. On the left is the name of the airline. It is in italics, bold, and in two different colors on the top line. The lower line is reserved for the slogan, which is typed in thin, even letters without serifs.
The use of the gazelle symbolizes agility, speed, and gracefulness of movement – qualities that the airline should possess. The green background symbolizes freshness or eco-friendliness, and the different colors of the company name attract attention and make it more memorable. The slogan font, chosen to be thin and sans serif, is meant to give the slogan a modern, straightforward appeal.