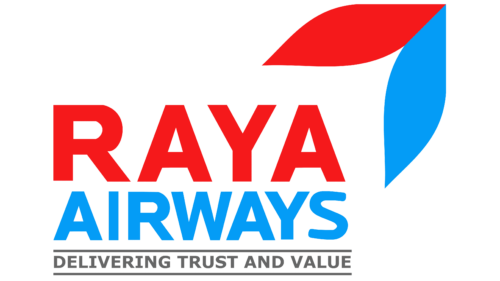 Raya Airways Logo PNG
Raya Airways: Brand overview
Based in Subang, Selangor, Malaysia, Raya Airways has become a prominent player in the express cargo and charter cargo airplane industry. Previously known as Transmile Air, the airline became Raya Airways.
Raya Airways traces its history back to November 1993, when it was founded as Transmile Air.
Initially focused on cargo transportation in Malaysia and Southeast Asia, the airline quickly gained recognition for its commitment to customer satisfaction and reliable logistics operations.
In 2012, Transmile Air rebranded to Raya Airways, signaling a commitment to growth and improvement while remaining true to its core values.
Raya Airways operates a modern fleet of aircraft, providing seamless delivery to destinations around the world. Headquartered at the Raya Airways Center in Subang, the airline ensures the highest standards of quality and efficiency in all aspects of its operations.
Meaning and History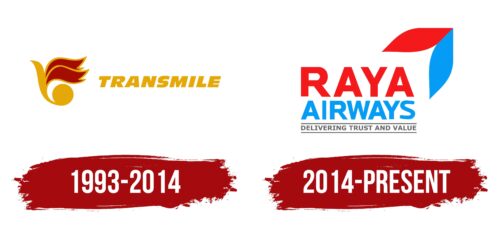 What is Raya Airways?

Since its inception, Raya Airways has established itself as a reliable cargo airline. Raya Airways' strategic hub at the Sultan Abdul Aziz Shah Airport Cargo Complex in Subang, Selangor, Malaysia, plays a key role in connecting various regions at home and abroad. The airline is constantly working to improve its infrastructure, modernize its fleet, and integrate technology to enhance the efficiency of operations, ensuring reliable cargo delivery at all times.
1993 – 2014
2014 – today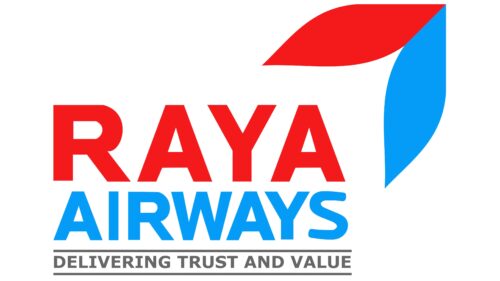 The logo of the Malaysian cargo airline radiates friendliness due to its bright colors, softness, and abundance of information. Essentially, the emblem serves as a billboard. This marketing tool contains the name occupying two lines and additional explanations at the bottom, separated by two lines. Both parts of the upper text are in a large sans-serif font. The word "Raya" is highlighted in red, and "Airways" in blue. There is also a two-color element in the form of a paired leaf on the right side.
The inclusion of several elements in the logo, such as the additional clarification and the two-color leaf, gives the corporate identity a layered look. The contrast between the red and blue text ensures that each part of the name stands out, drawing attention. The sans serif font, which is perceived as modern and clean, complements the friendly and approachable tone the company aims to convey.