Regional Express Airlines Logo PNG
Regional Express Airlines: Brand overview
Rex Airlines has been around for over 30 years and is a vital transportation link to remote and regional communities across Australia. Established in the early 2000s, Rex Airlines quickly gained popularity and has become a key player in the Australian aviation industry, offering reliable scheduled flights to a variety of destinations across the country.
In 2002, Rex Airlines Pty Ltd was established with a clear mission to provide reliable air service to regional communities across the country. On that momentous day, August 31, the airline took to the air with a fleet of Saab 340 turboprop aircraft, ideally suited for regional routes.
By 2005, tireless efforts had paid off, making Rex Airlines Australia's largest independent regional airline.
In response to the dynamic and ever-changing aviation landscape, Rex Airlines has made significant investments in its fleet and overall passenger experience. A significant development was the introduction of Saab 340B Plus and Saab 340B Plus Regional aircraft into service, increasing capacity and enhancing the passenger experience.
Regional Express Airlines (Rex Airlines) has served as a vital link connecting regional communities with vibrant urban centers across Australia for more than a decade. As a link between rural and urban areas, Rex Airlines connects people and places and sets the standard for exemplary customer service and environmental awareness in the industry.
Meaning and History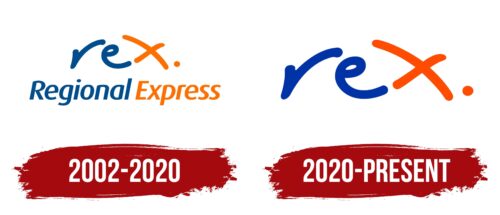 What is Regional Express Airlines (Rex Airlines)?

Regional Express Airlines, commonly referred to as Rex Airlines, is proud to be Australia's leading regional airline headquartered in Muscotah, NSW. This important airline operates scheduled regional and domestic flights, cementing its reputation as Australia's largest non-Qantas regional airline. Operates as a principal subsidiary of Regional Express Holdings, extending its reach to all six states of Australia.
2002 – 2020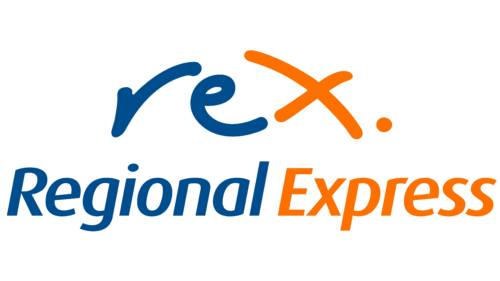 2020 – today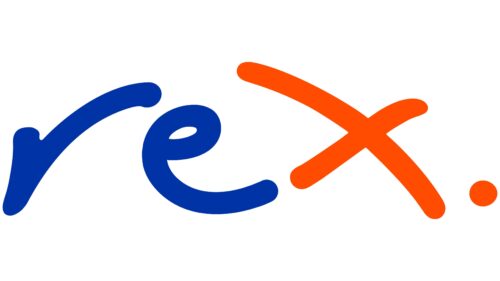 Rex Airlines uses the logo of its parent company, Regional Express Holdings, indicating the close relationship between the two. The design is simple but quite ingenious: the artists drew the letters "r," "e," and "x" in sprawling lines and put a bold dot at the end. The first two symbols are colored in dark blue, and "x" and punctuation mark – in bright orange. The emblem looks casual and informal as the airline seeks to create a trusting atmosphere to attract the modern generation of customers.
The contrast of dark blue and bright orange signifies stability and energy, respectively. Dark blue evokes a sense of reliability and professionalism, while bright orange evokes enthusiasm and modernity. This dual color scheme attracts both traditional and modern customers, uniting them under the banner of reliable and lively service.