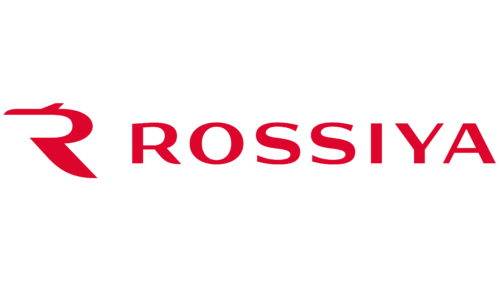 Rossiya Logo PNG
Rossiya Airlines has been a trusted brand in the aviation industry for over 85 years and has established itself as a leading carrier in Russia and beyond. Since its founding in 1934, the airline has earned a reputation as a reliable and top-class carrier, making it one of the most respected airlines in the Russian Federation. Russia Airlines, a member of the Aeroflot Group, is committed to providing passengers with smooth and enjoyable flights.
In the early years of its existence, Rossiya Airlines played a crucial role in providing connections to remote regions of Russia, serving as a "lifeline" for residents of remote areas. By flying to remote regions, the airline contributed to economic growth and development, bridging the gap between these regions and the rest of the country. With its fleet of reliable Soviet-made airplanes, Rossiya Airlines has successfully overcome extreme weather conditions, ensuring the safety and comfort of its passengers.
Throughout its almost century-long history, Rossiya Airlines has been constantly expanding the boundaries of air transportation. The airline improves flight efficiency and safety by utilizing modern aircraft and prioritizing passenger comfort.
In recent years, Rossiya Airlines merged with Aeroflot Group, a strategic move that further strengthened its presence in the aviation market.
Russia Airlines has a prominent position at Pulkovo Airport (St. Petersburg), being the largest carrier in this major transportation hub. With an extensive network of domestic and international flights, the airline offers convenient travel options for both business and leisure travelers.
Utilizing its extensive network and the combined strength of the Aeroflot Group, the airline plays an important role in connecting people, businesses, and regions both in Russia and around the world.
Meaning and History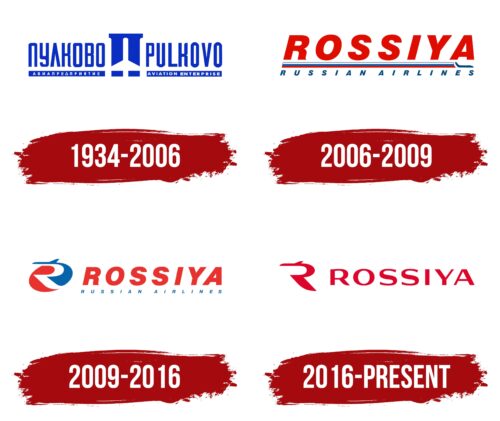 What is Rossiya?

Rossiya Airlines is one of the most stable and largest air carriers in the Russian Federation. Its creation dates back to May 7, 1934, making it one of the oldest airlines in the region. The airline, a member of the reputable Aeroflot group, demonstrates stable growth and sustainability in its operations.
1934 – 2006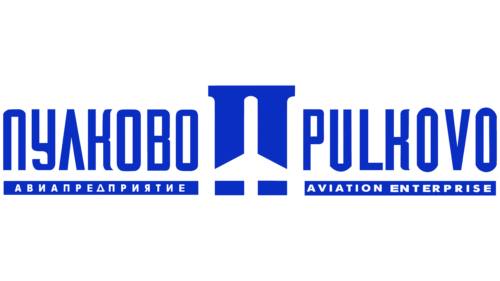 2006 – 2009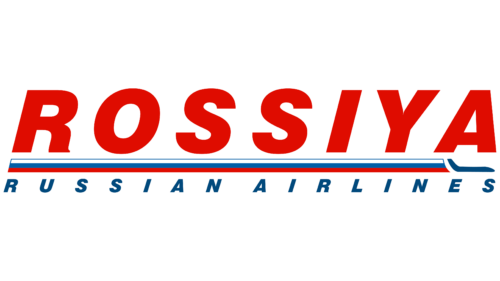 2009 – 2016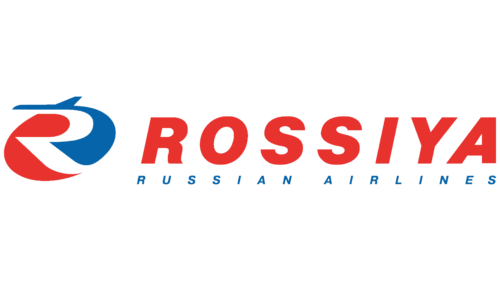 2016 – today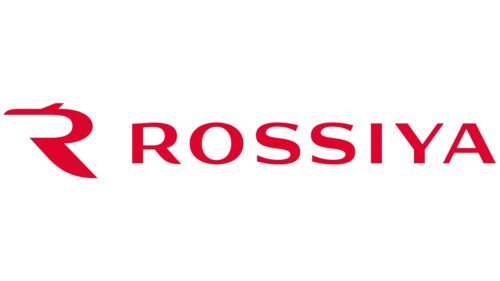 Rossiya Airlines was registered under this name in 2006 and, at the same time, received a logo with the corresponding word. The word is colored in an aggressive shade of red. All letters are capitalized and slightly flattened. On the left is a symbol in the form of a fragmentary letter "R," devoid of a vertical stroke. According to the designers' idea, the remaining part should resemble an airplane, but it does not look light and airy – the powerful stripe pulls it down.
The aggressive red color evokes strong emotions or attention, which corresponds to the bold character of the airline. The fragmented letter "R" and its heavy stripe suggest stability or down-to-earth services but contradict the desired impression of flight and lightness. The logo offers a complex mix of messages about the identity of the airline.