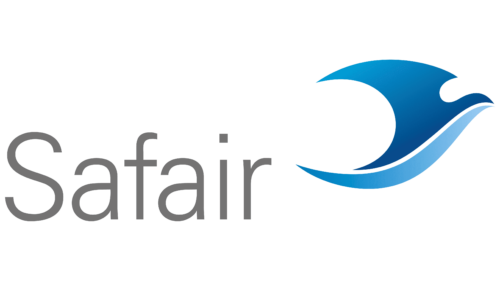 Safair Logo PNG
Safair has been a leader in the aviation industry for more than five decades with its fleet of iconic Lockheed L-100 Hercules cargo aircraft. Safair, based at O.R. Tambo International Airport in Kempton Park, South Africa, has become a world-renowned cargo airline.
In 1965, Tropair (Pty) Ltd came into being, laying the foundation for what later became Safair Operations.
The turning point came in March 1970 when Safmarine, a well-known South African shipping company, acquired Tropair. Wasting no time, the newly formed company took to the air on March 18, launching its first flights.
In the 1980s, Safair Freighters gained the confidence of the South African Defense Force, becoming their preferred cargo airline for strategic missions.
Safair's operations are based on an impressive fleet of Lockheed L-100 Hercules freighter aircraft, which are the backbone of the company. These vintage aircraft enable Safair to provide unparalleled service, easily meeting the needs of cargo operations around the world.
Safair continues to be a leading cargo airline, delivering cargo to the most remote locations around the world.
Meaning and History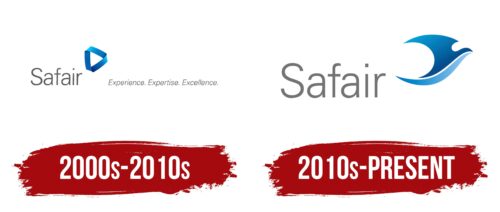 What is Safair?

Safair's journey as an aviation company began in 1965 as a subsidiary of Safmarine, which focused primarily on cargo and charter operations. In 2014, Safair launched its low-cost passenger airline FlySafair. The new venture proved successful, and by 2020, FlySafair had become a significant player in South Africa's domestic airline market. Safair's headquarters remained at O.R. Tambo International Airport in Kempton Park, South Africa, all these years.
2000s – 2010s
2010s – today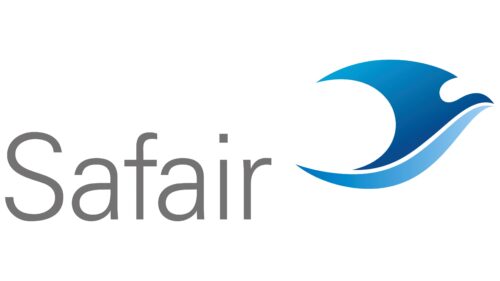 The bird flying on the right has a rounded shape. The smooth and undulating lines convey the ease, comfort, and safety of air travel. At the same time, all elements are pointed to emphasize the alertness of the staff. The bird is formed of two components separated by a white stripe. The upper part is dark blue, and the lower part is light blue. There is a slight gradient, which is clearly visible at the ends on the left side. The company name is understated: gray, bold, sans-serif font and letters are stretched upwards.
The use of double blue tones symbolizes a number of values, such as trust, reliability, and peace of mind. The gradient at the ends of the letters on the left side creates a sense of movement or forward motion. The choice of understated gray for the company name balances the colorful bird, emphasizing professionalism and not distracting from the main visual element.