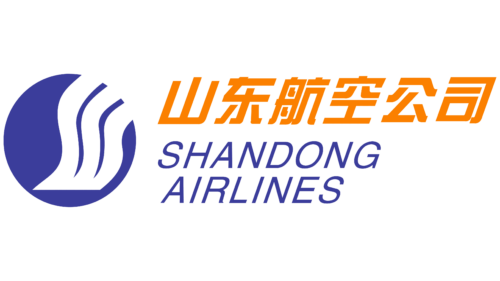 Shandong Airlines Logo PNG
Shandong Airlines: Brand overview
In 1994, Shandong Airlines Co. (SDA or 山航) took to the air, marking its entry into China's aviation industry. The airline's headquarters, the Shandong Airlines Center (山东航空大厦; Shāndōng Hángkōng Dàshà), located in Jinan, Shandong, became the central hub of its operations. The airline began operations in September of the same year, aiming to provide passengers with safe and reliable travel.
In an effort to meet the growing demand for air transportation in Shandong Province, Shandong Airlines has become a major player, offering convenient domestic and international connections from its main hubs in Jinan, Qingdao, and Yantai. The establishment of Shandong Airlines was facilitated by the influential Shandong Aviation Group, which now holds a 42% controlling stake in the airline, solidifying its position in the industry.
In September 1997, Shandong Airlines made history by becoming a founding member of the New Star (Xinxing) aviation alliance.
In June 2004, Shandong Airlines launched its first international flight from Jinan to Singapore.
Shandong Airlines owes its growth and success to two powerful allies. Shandong Aviation Group, a prominent name in Chinese aviation, holds an impressive 42% stake in the airline, while strategic partner Air China holds a 22.8% stake.
Meaning and History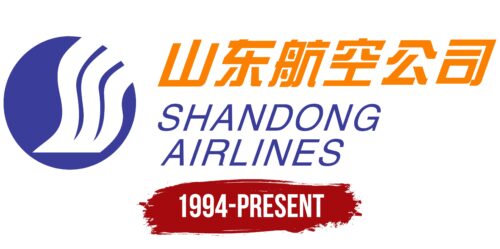 What is Shandong Airlines?

Shandong Airlines, known as SDA, is an important player in the aviation industry and is based at the Shandong Airlines Center in Jinan, Shandong Province. Founded in 1994, the airline has grown rapidly to meet the ever-increasing demand for domestic and international transportation, strengthening Shandong's reputation as a dynamic economic center. The airline has focused on building a strong network connecting China's key cities with the rest of the world.
1994 – today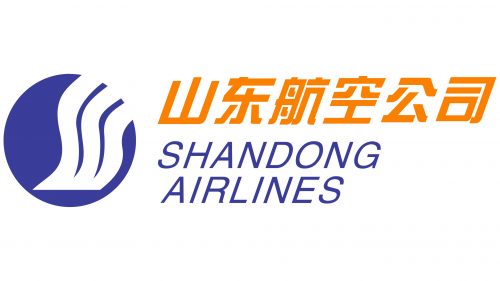 The dark blue circle with wavy lines conveys the aviation company's dynamic drive to greater heights. It also represents the company's growth and broad regional coverage. In addition, it represents a bird with raised wings where the wavy lines serve as feathers. The bird's head is turned to the left and ends in a sharp beak. On the right side is the name of the airline, occupying three lines. In the upper line are hieroglyphs, and in the middle and lower lines are thin English letters. The letters are chiseled, tall, and italicized.
The wavy lines inside the circle symbolize air currents, reinforcing the theme of flight and freedom. The combination of symbols and English letters in the airline's name implies a fusion of cultural or regional elements, indicating the broad scope of the company. The use of italics creates a sense of movement, reinforcing the overall dynamics of the logo.