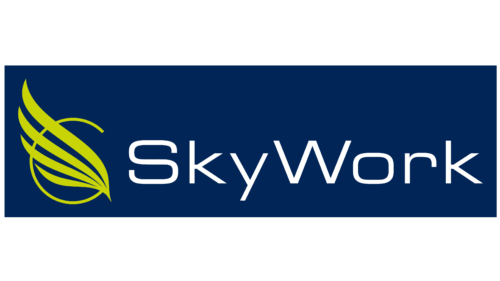 Sky Work Airlines Logo PNG
Sky Work Airlines made aviation history with its logo featuring a golden wing. The wing was not a typical representation of an airplane's or bird's wing. Instead, it comprised four elegant feathers of varying lengths that converged at one point to form a whimsical shape. Their elongated, wavy design conveyed a sense of lightness and weightlessness. The company name "Sky Work" was placed to the right of the wing and was comprised of white, slender letters. All emblem elements were housed within a large, dark blue rectangle.
The golden wing in the emblem stood as a powerful symbol, hinting at a luxurious travel experience. Gold is often associated with prosperity, premium quality, and exclusivity, conveying that the airline is dedicated to providing an upscale service. This wing, different from traditional wings seen in other logos, also signifies innovation and a willingness to deviate from the norm.
The dark blue rectangle that served as the backdrop for all these elements was equally meaningful. Dark blue is commonly linked with trustworthiness and reliability. This rectangle's golden wing and white text encapsulate these qualities, suggesting the airline aims to deliver reliable and trustworthy service while setting itself apart with a unique, luxury experience.
Even the slender, white letters of the brand name contributed to the overall message. Their slim form complements the light, airy feeling invoked by the wing, almost as if emphasizing the effortless journey that awaits passengers. White often represents purity and simplicity, echoing the airline's commitment to offering a straightforward, uncomplicated travel experience.
The whimsical form of the four feathers converging into one point brought a sense of unity and coherence. They looked as if they were in motion, adding dynamism to the emblem, hinting at efficiency and quick service.
Although Sky Work Airlines is now bankrupt, the logo's innovative and elegant design remains a case study in branding. Its iconography was aesthetic and a visual narrative encompassing luxury, trust, innovation, and ease. It introduced the brand's philosophy, promising its patrons a seamless and luxurious air travel experience. The multiple layers of symbolism intricately woven into its design elements make the logo a timeless representation of what the company aspires to be.
Sky Work Airlines: Brand overview
| | |
| --- | --- |
| Founded: | 1983 – 29 August 2018 |
| Headquarters: | Belp, Switzerland |
Sky Work Airlines, originating from Bern, Switzerland, in 1983, initially functioned as a minor air taxi and charter airline service. The transition to a scheduled passenger airline took place in 1991, enabling Sky Work to run flights from Bern to various European destinations using a compact fleet of turboprop planes.
Throughout the 1990s and 2000s, the airline systematically broadened its flight paths, connecting more locations in Switzerland, France, Italy, and other Western European countries. By 2010, Sky Work had established a secondary base at the EuroAirport in Basel, Switzerland, which evolved into their primary hub.
At the height of its operation, the airline serviced over 20 destinations in seven countries, primarily focusing on short-haul flights from Switzerland. The company had a fleet of eight passenger planes. Despite this, Sky Work experienced increasing competitive pressure from low-cost carriers such as easyJet, causing financial difficulties that eventually led to the company declaring bankruptcy in 2017.
Even after declaring bankruptcy, the airline continued its operations on a smaller scale until August 2018. After that, Sky Work's remaining flights were stopped, marking the end of the airline's 35-year run. Sky Work Airlines transported over 20 million passengers throughout its operational life, positioning itself as Switzerland's most significant regional airline. However, the intense competition in the industry was ultimately too much, resulting in its downfall.
Meaning and History