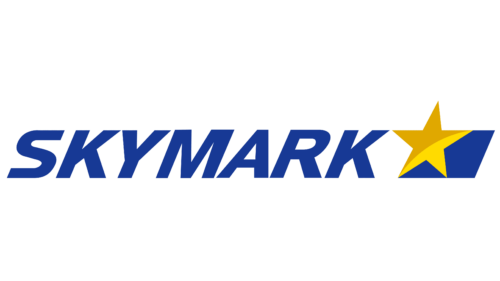 Skymark Airlines Logo PNG
Skymark Airlines: Brand overview
Skymark Airlines Inc. (スカイマーク株式会社, Sukaimāku Kabushiki-gaisha) changed the Japanese aviation landscape with its unique combination of cheap fares and exceptional service.
In 1996, Shinichi Nishikubo envisioned the creation of a low-fare airline in Japan.
Skymark Airlines created a sensation in Japanese aviation when it opened commercial flights in September 1998.
For years, ANA and JAL held a duopoly in the domestic flight market in Japan. However, Skymark Airlines challenged this status quo by offering direct competition to the existing carriers. By becoming the first low-cost airline to operate scheduled flights to Haneda Airport, a stronghold of ANA and JAL, Skymark shattered the duopoly and ushered in a new era of air transportation in Japan.
Under the ambitious leadership of Shinichi Nishikubo, Skymark Airlines has experienced amazing growth. By adopting innovative business strategies and utilizing advanced technology, the airline has improved operational efficiency and customer service. The airline has expanded its service network to include regional airports such as Kobe Airport and Ibaraki Airport, offering passengers a variety of convenient travel options.
In 2015, Skymark Airlines faced financial difficulties due to its ambitious expansion plans, which led to the filing for bankruptcy protection. However, thanks to the support of creditors and the intervention of key industry players, the airline received a lifeline and successfully restructured its operations.
In August 2015, a strategic restructuring plan approved by a consortium of investors, including Integral Corporation (50.1%), All Nippon Airways (ANA) (16.5%), Sumitomo Mitsui Banking Corporation, and the Development Bank of Japan, saved Skymark Airlines from collapse.
Skymark Airlines is Japan's largest independent airline and the only low-cost carrier.
Meaning and History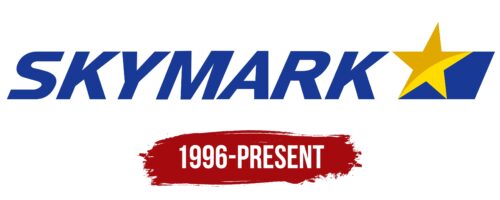 What is Skymark Airlines?

Skymark Airlines is a Japanese budget airline headquartered at Haneda Airport in Ota, Tokyo, Japan. Since its founding in 1996, the airline has strived to build a reliable route network across Japan and Asia. Initially operating flights between Tokyo and Fukuoka, the airline has expanded its footprint over the years and now serves many regional destinations. Despite a temporary downturn in 2015 due to bankruptcy, the airline has made a decent recovery.
1996 – today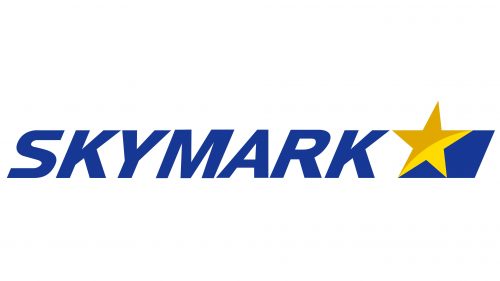 The Skymark Airlines logo is both graphic and textual and is minimalist in that it includes only the company name and a star. The lettering consists of italicized letters in a geometric style. The letters have smooth, even edges and are devoid of serifs. Next to the text is a five-pointed star, also slightly inclined to the right. The star is colored in two shades of yellow: sun-warm and dark golden. It is located on the blue background of the parallelogram. This color palette represents the sky and positivity.
The minimalistic design directs attention solely to the airline's name and the star, making the brand easily recognizable. The two shades of yellow in the star potentially signify the varying degrees of brightness or excellence that the airline strives for. The blue parallelogram symbolizes the sky and the company's forward movement.