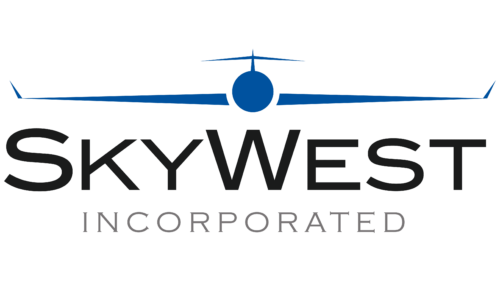 SkyWest Inc Logo PNG
SkyWest Inc. logo stands out in the aviation sector for its unconventional portrayal of a flying airplane. Instead of a realistic depiction, the designers have used simple blue geometric shapes: a circle, stripes, and triangles to represent the aircraft. The image is abstract, with disproportionate elements and wings detached from the body. Below this abstract representation sits the word "SKYWEST" in bold, grotesque font and "INCORPORATED" in thin letters with short serifs, all set in black and gray, respectively.
The choice of blue geometric shapes is not arbitrary but serves as an impactful visual narrative. Blue is often associated with reliability, calmness, and efficiency—traits highly valued in the aviation industry. The circle signifies the global reach or the endless travel opportunities, while the stripes and triangles may allude to speed and forward momentum.
The abstraction in the design emphasizes innovation and the willingness to look at air travel from a different perspective. The logo's detachment of wings from the body symbolizes flexibility and the potential for a transformative travel experience. The disruption of standard proportions and angles invites the viewer to consider new possibilities and interpretations.
The bold, grotesque font used for the word "SKYWEST" conveys strength and modernity. The typeface grabs attention, demanding the viewer's consideration and leaving a lasting impression. SkyWest Inc. is making a statement with this design choice: they are robust, forward-thinking, and ready to lead.
The gray "INCORPORATED" set in thin letters with short serifs offers a subtle touch. Gray denotes neutrality and balance, suggesting that while the company is innovative, it maintains a grounded, balanced approach to its operations.
The overall design composition, with its interplay of colors, shapes, and fonts, creates a compelling emblem that encapsulates the values and goals of the company. It brings together innovation and reliability, suggesting a brand that is as focused on redefining the travel experience as it is committed to delivering a trustworthy service.
SkyWest Inc: Brand overview
| | |
| --- | --- |
| Founded: | September 8, 2005 |
| Headquarters: | St. George, Utah, United States |
| Website: | inc.skywest.com |
SkyWest Inc. traces its roots back to 1972 when SkyWest Airlines was established as a modest commuter airline in St. George, Utah. Over the next two decades, the airline expanded, gradually augmenting its fleet and route map across the Western United States.
The airline made a strategic shift in the early 1990s by operating flights under codeshare agreements with larger airlines, thus transitioning into a regional airline business model. SkyWest Airlines stepped onto the public stage in 1995 when it became a publicly traded entity and expanded across North America over the following decade.
In a move to consolidate its status, the corporation of SkyWest Inc. was established in 2005, serving as the parent holding company for SkyWest Airlines and its regional affiliate, Atlantic Southeast Airlines. Over the years, SkyWest Inc. acquired or partnered with more regional carriers, including ExpressJet Airlines and Compass Airlines.
Currently, SkyWest Inc. manages operations through its subsidiary airlines: SkyWest Airlines, ExpressJet Airlines, Compass Airlines, and Cafe Express. The collective family of SkyWest Inc. airlines operates over 2,500 daily flights to more than 250 destinations, securing its position as one of North America's leading regional airline operators.
SkyWest Inc. remains committed to delivering regional flight services for major airlines, including United Airlines, Delta Air Lines, American Airlines, and Alaska Airlines. Its focus remains unwaveringly on regional airline operations throughout North America.
Meaning and History