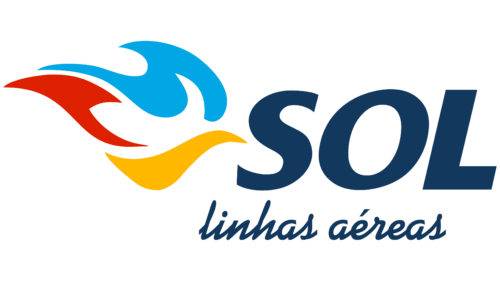 Sol Linhas Aereas Logo PNG
The Sol Linhas Aereas logo is a vibrant amalgam of elements, featuring a multicolored flame composed of three elongated figures adjacent to the dark blue word "SOL," written in bold italics. Below this, the phrase "linhas aereas" is crafted in an uneven handwritten font. This medley of features encapsulates a sense of balance between formality and flair, simultaneously conveying the airline's professionalism and eagerness to appeal to its customers.
Taking a closer look at the flame, its tricolor scheme of red, blue, and yellow becomes highly significant. Flames are universal symbols of energy, power, and transformation. Here, the red element speaks to passion and urgency, the blue embodies trust and depth, while the yellow signifies optimism and cheerfulness. Collectively, they form a narrative that embodies powerful energy, a crucial element for an airline setting the pace in a fast-moving industry.
Adjacent to the flame is the company name, "SOL," penned in a dark blue hue. Blue is often associated with reliability, wisdom, and confidence—all essential qualities for an airline that people entrust their lives with during flight. The use of bold italicized font underscores the strength and stability of the brand, suggesting a forward momentum that aligns with the energetic flame.
The contrasting "linhas aereas" text is written unevenly handwritten. This contributes a human touch, an emotional connection aimed at resonating with customers. The stark contrast between the crisp "SOL" and the looser "linhas aereas" reveals a carefully calibrated balance: solidity and flexibility existing side by side.
The tricolor flame for powerful energy, the dark blue word for strength and reliability, and the handwritten phrase for customer connection—all these elements serve a role. They work harmoniously to communicate a functional and aspirational message, a fusion of the practical and the poetic.
Sol Linhas Aereas: Brand overview
| | |
| --- | --- |
| Founded: | 2008 – 2012 |
| Headquarters: | Cascavel, Brazil |
| Website: | voesol.com.br |
Sol Linhas Aéreas, a Brazilian budget airline, was established in Cascavel, Brazil 2008. It was the brainchild of a group of Brazilian investors with an established background in aviation.
Commencing operations in December 2008, Sol Linhas Aéreas filled the niche for affordable domestic flights within the southern region of Brazil. Its initial operations included services connecting Cascavel to Curitiba and Foz do Iguaçu.
In its subsequent years, the airline branched out to serve a variety of other locations in Brazil, such as São Paulo, Rio de Janeiro, Salvador, and Porto Alegre, using a modest fleet of Boeing 737 aircraft.
However, Sol Linhas Aéreas grappled with financial difficulties from its early stages, prompting a company restructuring in 2010. Due to high operational costs, the airline struggled to keep up with larger Brazilian carriers.
By 2012, Sol Linhas Aéreas had ceased all operations due to its inability to profit. Despite its brief lifespan, the airline successfully transported over 2 million passengers.
Analysts attributed Sol Linhas Aéreas' failure to intense competition from other prominent low-cost airlines like Gol and Azul and a potentially flawed initial business model.
Sol Linhas Aéreas could not withstand the tumultuous Brazilian aviation market of its time. The airline's operations concluded after a mere four years.
Meaning and History