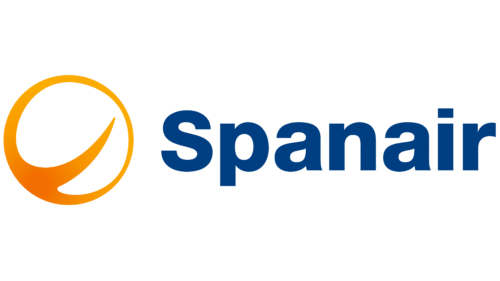 Spanair Logo PNG
Founded in 1986 as Scandinavian Airlines Spain, the airline experienced growth and success over 26 remarkable years until its sad closure in 2012.
Spanair was born out of a unique collaboration between the Scandinavian Airlines System (SAS) and various Spanish organizations and began its journey as a charter carrier.
In 1988, Spanair received its first scheduled airline license, marking an important milestone in its emergence as Spain's largest airline. The following decade saw the airline's significant development, resulting in the creation of an extensive route network connecting Spain with numerous European destinations.
In 2003, Spanair joined the prestigious Star Alliance global alliance, allowing the airline to reach new heights.
Facing financial difficulties in the early 2000s, Spanair experienced a turning point in 2009. Scandinavian Airlines cut its stake, resulting in the airline becoming an independent Spanish carrier.
Unfortunately, Spanair's closure in 2012 ended an entire era as the airline faced insurmountable financial difficulties and eventually ceased operations.
Meaning and History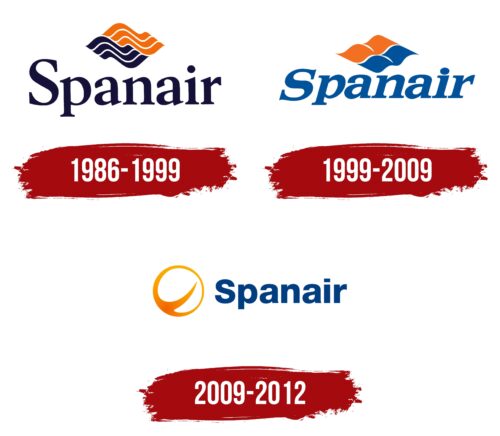 What is Spanair?

Spanair was a Spanish airline whose main operational center was the city of Hospitalet de Llobregat, located near Barcelona. The airline played an important role in Spain's domestic and international air transportation, providing passengers with many flight options in Europe and beyond. Founded in 1986, it was originally a joint venture between Scandinavian Airlines (SAS) and Viajes Marsans and operated a variety of flights, from scheduled to charter flights.
1986 – 1999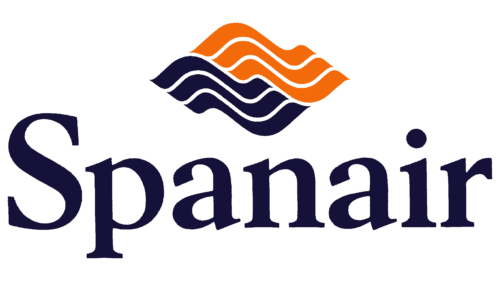 1999 – 2009
2009 – 2012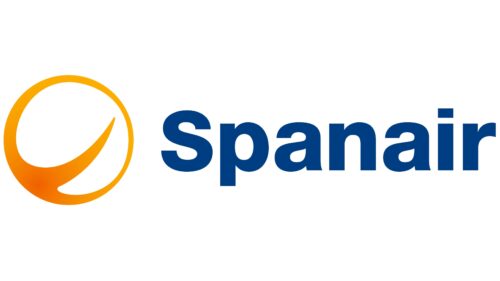 A Spanish airline that ceased operations in 2012 had a minimalist logo. The emblem consisted of a name (right) and a symbol (left). The first element was an orange circle with a light center, separated by a curved band extending beyond the circle. This band divided the space into two unequal parts. Next to it was the blue inscription "Spanair." The letters harmoniously combined rounded and straight edges. Among them stood out the letter "i," resembling two rectangles – large and vertical, small and horizontal.
The orange circle symbolizes unity or global reach, while the bright center could represent the company's focus on customer satisfaction. The curved stripe could have been an indication of air transportation routes or dynamic traffic. The blue text added corporate identity, and the unique "i" design added originality, subtly setting the brand apart from others.