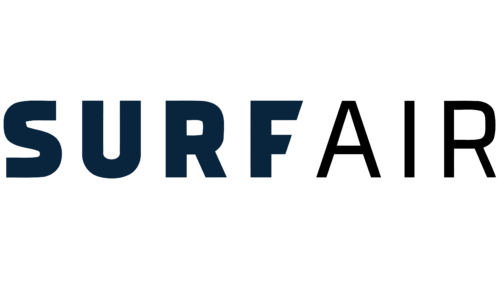 Surf Air Logo PNG
Since its inception in 2011, Surf Air has transformed the private charter industry by offering a unique and innovative approach to aviation. With a focus on convenience and affordability, Surf Air quickly gained popularity among California and Texas travelers.
In June 2013, Surf Air introduced a revolutionary subscription-based model for the industry. Members gained unlimited access to fly Surf Air's expanding network of destinations for a flat monthly fee.
With an initial fleet of turboprop airplanes, Surf Air initially focused on short flights within California. However, as enrollment grew, the company expanded routes and modernized its fleet with the addition of luxury aircraft to provide access to destinations throughout Texas.
Building on its initial success, Surf Air expanded its network and services. By adding new routes to popular destinations such as Las Vegas and Santa Barbara, Surf Air increased convenience and flexibility for its members.
Meaning and History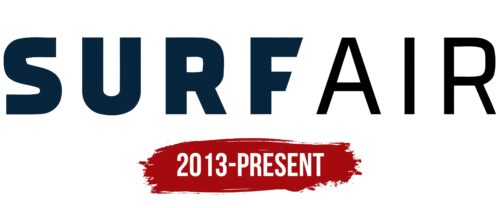 What is Surf Air?

Surf Air is a Los Angeles-based aviation marketplace that revolutionized air travel by offering its members access to private charter flights for a flat monthly fee. The company positioned itself as an attractive alternative to traditional commercial airlines by providing unlimited access to scheduled flights. This innovative approach has changed the perception of air transportation since the company was founded in 2013.
2013 – today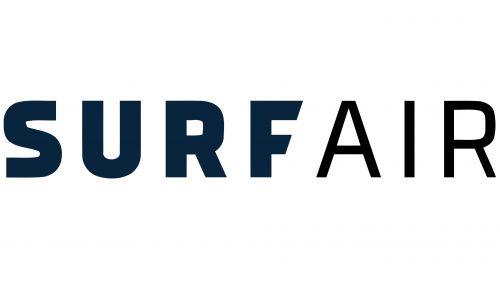 In the logo of this American airline, both parts of the name are unified yet clearly highlighted in color, and not only that. The left side of the inscription, where the word "Surf" is shown, uses bold, geometrically shaped letters. The right side uses thinner, sleeker letters. In both cases, an uppercase slab-serif font is used. They are the same font, but they look different because of differences in the width of the glyphs. These glyphs have more angles and flat edges than curves and smooth lines. The minimalistic emblem is colored in two shades: blue and black.
The dual coloring and different font styles emphasize the different qualities the airline wants to convey. Bold geometric letters symbolize strength and reliability, while slim, elegant letters symbolize sophistication and attention to detail. The choice of dark blue and black colors imparts professionalism and perhaps signifies trust and authority.