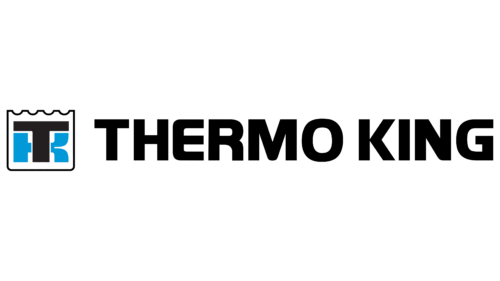 Thermo King Logo PNG
The Thermo King logo is a display of the company's full name and a cleverly designed monogram of the letters "T" and "K." The dominant black "T" carves through the blue "K," partitioning it into two sections. This logo is set within a polygon, which resembles a fortress tower with a jagged top, symbolizing reliability, longevity, and strength. Its symmetrical form is indicative of precision and balance.
The logo's design elements echo the brand's identity. The black "T" cutting through the blue "K" represents the brand's disruptive innovation in its industry, and the black color signifies power and authority, which is what the brand holds in its field.
The blue "K," divided into two by the "T," further reinforces the brand's identity. Blue symbolizes trust and reliability, aligning with the company's aim to provide reliable solutions. The division of the "K" conveys the brand's ability to adapt and evolve, maintaining its strength and reliability amidst changes.
Using a fortress tower as a frame for the logo is a strong metaphor. Just as a fortress tower stands tall and withstands the test of time, the company, too, aims for durability and longevity in its offerings. The jagged top adds a touch of aggression, symbolizing the brand's fierce dedication to staying at the forefront of the industry.
The symmetrical design of the logo is a visual depiction of precision and balance, two critical aspects of the brand's operations. This symmetry symbolizes the brand's commitment to maintaining a balanced approach to delivering precise solutions to its customers.
Thermo King: Brand overview
| | |
| --- | --- |
| Founded: | 1938 |
| Founder: | Joseph A. Numero, Frederick McKinley Jones |
| Headquarters: | Bloomington, Minnesota, United States |
| Website: | thermoking.com |
Thermo King, an American enterprise, is a leading manufacturer of transport temperature control systems specifically designed for trucks, trailers, shipboard containers, and railway cars. The company's foundation dates back to 1938 when Frederick McKinley Jones laid its groundwork, inspired by his innovative creation of the first refrigerated truck trailer in 1935.
With a diverse product portfolio, Thermo King specializes in transport refrigeration units, electric generator sets, cryogenic refrigeration systems, and HVAC systems. These solutions are crucial in ensuring the safe and efficient shipping of perishable goods and temperature-sensitive cargo. Operating under the Thermo King brand name, the company is a valued subsidiary of Trane Technologies.
The range of equipment offered by Thermo King extends to trailer refrigeration, truck, and bus air conditioning systems, and advanced environmental control systems specifically designed for marine and rail transport. Serving a variety of sectors, the company caters to the specific needs of industries such as food and beverage, pharmaceutical and medical, chemical, and military, all of which require comprehensive cold-chain transportation solutions.
Thermo King's operations span the globe, making its mark in over 100 countries through its manufacturing sites, sales offices, and dealerships. Among its many innovative products, the TriPac EV all-electric truck refrigeration system and the SB range of trailer units, which integrate electric heating and cooling, stand out.
In 2021, Thermo King reported an impressive revenue of $2.3 billion, further solidifying its position as a market leader in transport temperature control systems after over 80 years in the industry. The company's commitment to innovation is exemplified in milestones like developing the first fully hermetic scroll compressor for truck refrigeration in 2002.
Meaning and History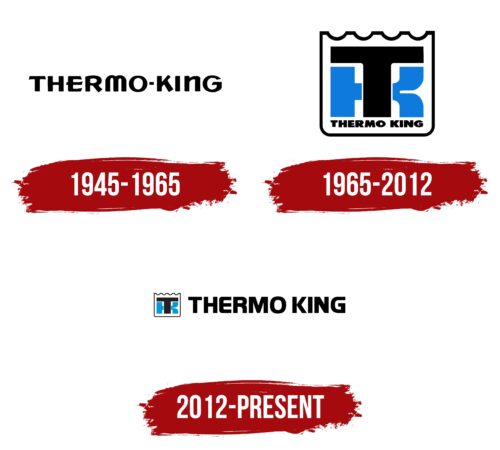 What is Thermo King?

Joseph A. Numero and Frederick McKinley Jones launched Thermo King in 1938, an American company that has greatly transformed the transportation temperature control sector. Located in Bloomington, Minnesota, the company is part of Trane Technologies and excels in producing systems for refrigerated trucks, trailers, containers, and rail cars. Beyond this, Thermo King also manufactures heating, ventilation, and air conditioning systems designed for bus and passenger train usage.
1945 – 1965

1965 – 2012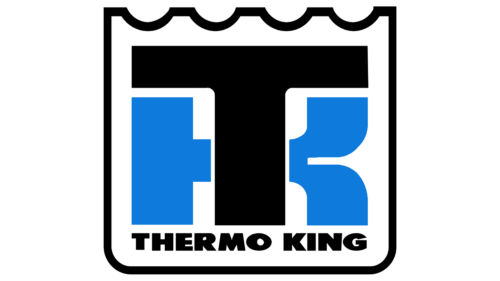 2012 – today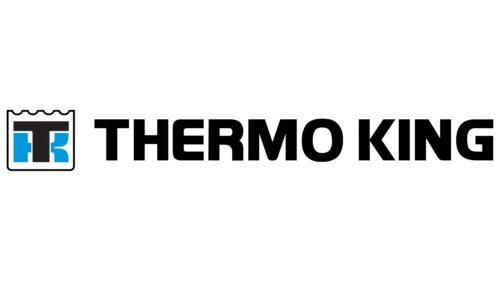 Thermo King color codes
Black

Hex color:
#000000
RGB:
0 0 0
CMYK:
0 0 0 100
Pantone:
PMS Process Black C
Teal

Hex color:
#0199d8
RGB:
1 153 216
CMYK:
100 29 0 15
Pantone:
PMS 801 C