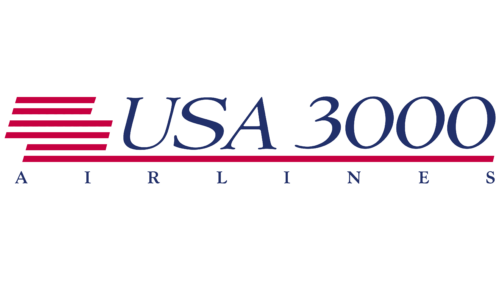 USA3000 Airlines Logo PNG
USA3000 Airlines logo takes its inspiration from the American flag, utilizing the same traditional colors of red and white. The design features alternating lines arranged in a stair-like pattern, with the longest "step" housing the italicized text "USA 3000." Below the horizontal line sits the word "AIRLINES," characterized by elongated serifs rounded at the ends.
The color scheme of red and white is more than just a tribute to national pride; it also conveys particular feelings and values. Red is a vibrant color associated with energy, passion, and action. White represents purity, innocence, and simplicity. When these two colors are placed together, they symbolize a brand that balances fervor and efficiency with calmness and clarity.
The stair-like pattern of the alternating lines is a unique touch that disrupts the conventional stripe layout found on the American flag. This pattern suggests a sense of progress and upward movement. The airline aims to provide its passengers with a forward-thinking, progressive experience, always striving to improve and improve its services.
USA3000 Airlines prides itself on its distinctly American identity, but there's an emphasis on unique features that set it apart from other carriers. The italicized font used for the main text indicates motion, resonating with the airline's focus on dynamism and speed. It implies that the firm is not static but continually advancing, adjusting, and modernizing. The long serifs, rounded at the ends, add a touch of elegance and refinement, signaling a commitment to customer service and quality.
Beneath the main text, the word "AIRLINES" serves as a stable, grounding element. This word's placement, isolated from the other elements, shows that while the firm is innovative and dynamic, it still maintains its core identity as an airline provider, underscoring its industry-specific expertise.
The logo perfectly blends traditional American symbolism with unique design elements that communicate the brand's individuality. It encapsulates both the brand's American roots and its global ambitions, serving as an effective visual representation of the airline's essence.
USA3000 Airlines: Brand overview
| | |
| --- | --- |
| Founded: | 2001 – January 30, 2012 |
| Founder: | Apple Vacations |
| Headquarters: | Pennsylvania, U.S. |
| Website: | usa3000.com |
USA3000 Airlines, an American holiday-centric airline, was operational from 2001 to 2012. The airline was launched in 2001 by major American tour operator Apple Vacations and started its operations in November of the same year with flights between Philadelphia and Cancun, Mexico.
As the years progressed, USA3000 extended its services, facilitating travel to popular holiday destinations in the Caribbean, Central America, and Europe from its hub in Philadelphia. The airline maintained a small fleet of Airbus A320 aircraft to facilitate these routes.
As a budget-friendly airline catering predominantly to the holiday travel market, USA3000 Airlines provided key services to Apple Vacations' clientele. The airline also cultivated strategic partnerships with hotel chains and resort establishments to offer comprehensive travel solutions.
Despite its unique market positioning, USA3000 faced considerable financial challenges due to the rising cost of aviation fuel and intense competition from larger airlines. These pressures ultimately led to the cessation of its operations in 2012, when Apple Vacations decided to close the airline after 11 years of service.
At the height of its operations, USA3000 transported over a million passengers each year, serving numerous holiday destinations. Its closure marked the termination of Apple Vacations' venture into managing a dedicated holiday airline.
Meaning and History