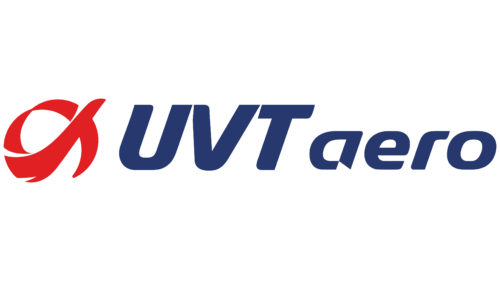 UVT Aero Logo PNG
UVT Aero logo uniquely blends Russian identity with international appeal. The company's name is "South-East of Tatarstan," an English logo rendition accompanying this regional significance. The first word appears in all caps, while the second is in lowercase letters. Both words are rendered in a bold, italic font without serifs. To the text's left is a red geometric abstraction featuring uneven ribbons that create the silhouette of a bird or a plane.
The bold, italicized letters add a sense of dynamism and speed to the branding. This choice aligns well with the airline's aim to offer quick, efficient service. The absence of serifs furthers this notion by providing a clean, streamlined appearance that's easy on the eyes and straightforward.
Blue is often associated with depth, wisdom, and stability, attributes that any airline would want to project. Meanwhile, red is a color of passion, energy, and action, subtly suggesting that the airline is not just about reaching destinations but also about the excitement of the journey itself.
The geometric abstraction – a red figure, whether interpreted as a bird or a plane, is packed with symbolism. It could be a nod to air travel's freedom and boundless possibilities if seen as a bird. If interpreted as a plane, it is a straightforward representation of the company's core business. Either way, the design element is a focal point that enriches the visual identity.
UVT Aero has opted for a logo with layers of meaning while maintaining a sleek, modern appearance. The uneven ribbons in the geometric abstraction add a certain dynamism and unpredictability, mimicking the sometimes complex routes that planes navigate through the skies. The color choices and typography further enrich the logo, each element carefully chosen to contribute to a cohesive visual message. Including an English rendition of the name suggests an eagerness to appeal to a broader, international audience without compromising its regional roots.
The emblem captures the company's dual commitment to local significance and international standards, making it an effective visual statement for the airline.
| | |
| --- | --- |
| Founded: | 2015 |
| Headquarters: | Kazan, Tatarstan, Russia |
| Website: | uvtaero.ru |
Established in 2015, UVT Aero is a freight airline based in Kazan, Russia. The inception of this airline is rooted in its affiliation with Volga-Dnepr Group, a prominent Russian transport and logistics organization.
Launching its operations in late 2015, UVT Aero initiated its journey with a Boeing 737 freighter aircraft fleet, focusing primarily on providing cargo charter services within Russia and Europe.
In the ensuing years, the airline's operational capacity grew, marked by the expansion of its cargo network to Asian destinations and the enlargement of its fleet with additional Boeing 737 freighters. By 2018, UVT Aero had established a new cargo terminal at Kazan International Airport, which soon became the primary hub for its freight services.
Staying committed to delivering domestic and international cargo charter flights across Europe and Asia, UVT Aero had developed a fleet of 10 Boeing 737 freighters by 2020. This enabled the airline to transport over 6,000 tons of cargo within its first five years.
UVT Aero has effectively used Kazan's logistics infrastructure as a vital carrier for Russia's Volga region. It continues to operate under the full ownership of its parent company, the Volga-Dnepr Group.
UVT Aero aspires to further its cargo operations to expand across Russia, CIS, European, and Asian markets. This strategic expansion aligns with Volga-Dnepr Group's vision for cargo transportation.
Meaning and History