ValuJet Airlines Logo PNG
ValuJet Airlines: Brand overview
ValuJet Airlines was established in 1992 to offer economy travelers an affordable opportunity to soar through the skies. Headquartered in Clayton County, Georgia, this non-traditional airline has reached unprecedented heights in a remarkably short period of time. ValuJet Airlines rapidly expanded its flight network, giving passengers access to exciting destinations throughout the eastern United States and Canada.
In 1995, the U.S. military severely damaged ValuJet's credibility by rejecting its offer to transport military personnel, citing security concerns.
After a thorough evaluation of ValuJet's operations, the U.S. Federal Aviation Administration (FAA) expressed dissatisfaction with the airline's maintenance procedures, safety protocols, and the overall condition of its fleet.
Finding itself in a difficult situation, ValuJet Airlines made a bold maneuver by merging with AirTran Airways in 1997 and renaming itself AirTran Airlines.
Meaning and History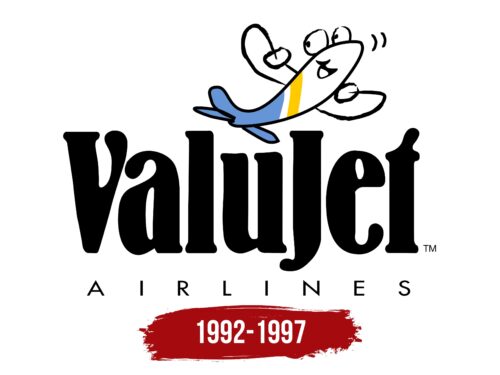 What is ValuJet Airlines?

ValuJet Airlines, a low-cost airline based in Clayton County, Georgia, was a prominent player in the U.S. airline industry in the 1990s. The airline was later renamed AirTran Airlines after its merger with AirTran Airways, further expanding its reach. The company focused on affordability and value, created a niche, and served domestic and international flights in the eastern U.S. and Canada.
1992 – 1997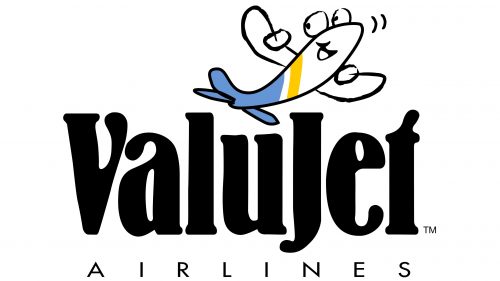 The logo of this American airline is a charming, pleasant, and positive logo that shows a smiling airplane welcoming passengers. The airplane has an anthropomorphic shape with improvised hands, face, mouth, and eyes. Its silhouette is outlined in black. On the right side, in front of the nose of the airplane, there are two black lines indicating the movement of the airplane. The plane's fuselage is tri-colored: white, blue, and yellow. The airplane flies above bold text that reads "ValuJet." Although the letters are lowercase, they are tall. The word "Airlines" is on the second line and consists of thin uppercase glyphs.
The anthropomorphic elements in the aircraft are meant to make the brand clearer and more appealing, especially to families and young travelers. The black outline and lines that hint at movement give the design a dynamic feel. The color scheme of white, blue, and yellow often signifies trust, optimism, and efficiency. The different fonts in the words "ValuJet" and "Airlines" add complexity, indicating that the company offers a range of services or experiences.