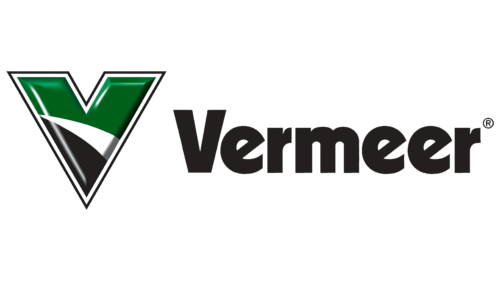 Vermeer Logo PNG
Vermeer, an American company founded in 1948 by Gary Vermeer in Pella, Iowa, is known for manufacturing industrial and agricultural equipment. The company is still headquartered in Pella today.
Among Vermeer's wide range of products, the most popular are horizontal directional drills, utility installation equipment, tree care equipment, hay balers, and biomass harvesters. The company made its mark in the agricultural industry with the patented Vermeer baler in 1971, which revolutionized hay harvesting and baling.
Vermeer's manufacturing facilities are centered at plants in Iowa and South Carolina, USA. The company distributes its products worldwide through an extensive network of independent dealers, reaching customers in more than 60 countries.
The company's core product lines include a variety of tools and machines, including underground utility installation, environmental equipment, hay equipment, and wood waste processing machines. Vermeer focuses on specialized machinery for a variety of industries, such as landscaping, agriculture, underground infrastructure, and tree care.
With more than 4,000 employees spread across the globe and generating annual revenues of approximately $1 billion, Vermeer is a company that has a global reach. Although the Vermeer name is not found in every home, the company holds a critical place in the global agriculture, landscaping, and construction industries as a supplier of uniquely specialized machinery.
Meaning and History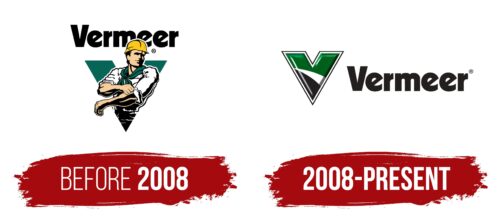 What is Vermeer?

Founded in 1948 by Gary Vermeer, Vermeer Corporation has grown from a humble family-owned business to a world-renowned company. Vermeer is known for its advanced industrial and agricultural equipment solutions and serves a diverse global customer base.
before 2008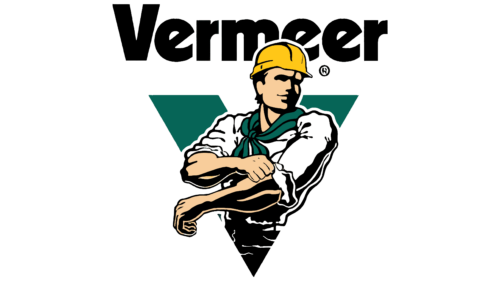 2008 – today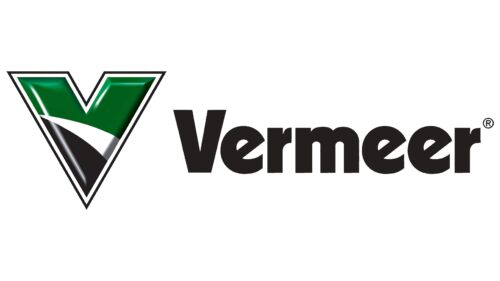 Since Vermeer manufactures a wide range of products, its logo looks rather generalized. The large letter "V" stands for the company name, and the color green is associated with nature. This makes sense since the company also specializes in agricultural equipment. The gradient gives the emblem a certain shine as if it were made of some cool, modern material. The visual weight of the emblem is balanced by the black "Vermeer" text, in which the letters "e" are slanted.
The large "V" is like opening a treasure chest, inviting you to discover what's inside. The green color feels as fresh as a spring leaf. The shiny gradient is reminiscent of the shine of freshly washed glass. The slanted letters "e" seem to wink: "Hey, we've got something special here!".
Vermeer color codes
Lincoln Green

Hex color:
#005f18
RGB:
0 95 24
CMYK:
100 0 75 63
Pantone:
PMS 356 C
Raisin Black

Hex color:
#231f1f
RGB:
35 31 31
CMYK:
0 11 11 86
Pantone:
PMS Neutral Black C