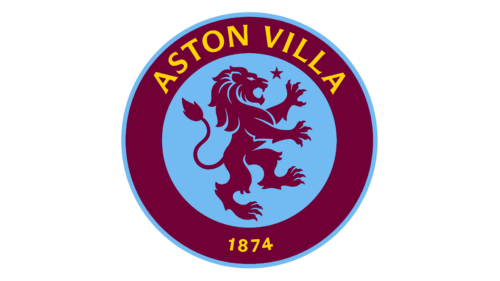 Scottish Premier League sports club Aston Villa is revisiting its visual identity. In particular, he wants to replace the coat of arms so that it meets the requirements of modernity and pleases the fans. Therefore, he invited the fans to decide on one of the two emblem prototypes.
The voting was announced in advance, so on 11/04/22, the process entered its final phase: until November 9, the leadership was waiting for the main winner. Work on new signs was carried out for a long time because a survey among 12.6 thousand fans preceded it. More than half of them favored changing the logo, as it poorly represented the team. They would only like to keep the image of a lion.
The basis of both emblems is a lion walking on two legs. It is directed to the right side and is decorated with fluffy tufts of wool. Complemented by an open mouth and sharp claws, such a view turned the king of beasts into a terrible predator with powerful energy. This animal first appeared in the Aston Villa identity in 1880 and is considered a symbol of the club's Scottish roots.
The first version consists of a hexagonal shield with a blue border, with a small highlight on the outer edge – a narrow white stripe. This shape is inspired by the gas lamp associated with the franchise's history. The lion is light: in color, it echoes the shade of the edging. A single star is drawn above it to the right. It denotes victory in the prestigious European Cup, held in 1982. The inner field is painted burgundy.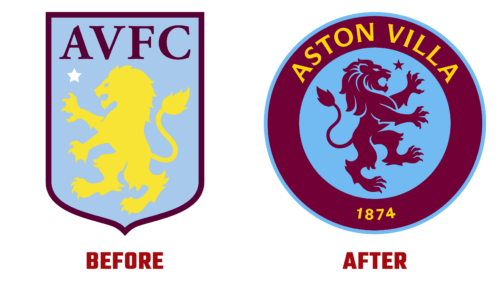 The second version has a round shape, referring to the club's championship in the 1970s, 1980s, and 1990s, which it won in several sports competitions. In this case, the classic rondel is the basis, where the main part is the center. It is there that the lion is walking to the right. It, like the star, is painted burgundy and seems to emerge from negative space. This is followed by a wide band with an arcuate name of the club and the year of its establishment. The frame is also double-bluish-white.
Voting for the coat of arms you like ended on 11/09/22. Only club members and season ticket holders could participate in it. The new identity will be finalized for the 150th anniversary of Aston Villa in the 2023-2024 season.