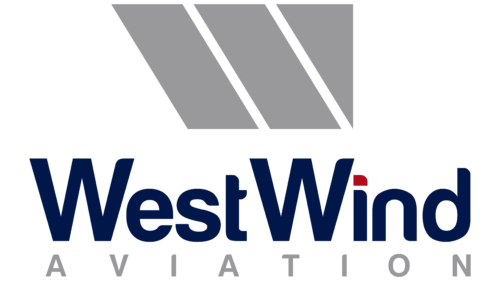 West Wind Aviation Logo PNG
West Wind Aviation logo features a stylized 'W' crafted from geometric gray shapes: two vertical parallelograms and one downward-pointing rectangular triangle. Below this abstract symbol, the words "West Wind" are in dark blue, with a red dot above the 'i'. The space between the words is so narrow it almost appears they are written as a single word. A second line of text, "AVIATION," is displayed in gray capital letters with broad inter-letter spacing. Some of the glyph corners are rounded, which visually softens the emblem.
The logo captures attention through its precise geometric form, where each shape serves a purpose. The gray vertical parallelograms seem like pillars, supporting the downward-pointing triangle. This triangle, in turn, channels the directionality of the brand. Pointing downward, it subtly emphasizes the grounding, stability, and reliability customers can expect from aviation services.
Gray often signifies neutrality and balance, critical qualities in the aviation sector. Using dark blue for the company's name provides a contrasting background, invoking trust and professionalism. The red dot above the 'i' in "West Wind" adds excitement and passion to the otherwise tranquil and subdued palette.
West Wind Aviation is precisely highlighted in the middle of the design, drawing focus to the company's role as the central component in the aviation experience it offers. The narrow spacing between "West" and "Wind " emphasizes this centrality," almost merging them into a unified entity. It's as if the design suggests that every aspect of the company, from its westward orientations to its aerodynamic capabilities, is tightly integrated.
The word "AVIATION" in all caps implies the brand's straightforward focus on its sector. The broad spacing between the letters denotes a certain expansiveness and scale, befitting a company dealing with large aircraft and extensive operations.
The rounded corners of certain glyphs add a touch of gentleness to the design. This feature provides a visual counterpoint to the rigid geometry and exact lines, introducing an element of human-centric design. It's as if the brand is signaling its commitment to customer comfort and ease, even as it adheres to the stringent requirements of aviation.
West Wind Aviation: Brand overview
| | |
| --- | --- |
| Founded: | 1983 – 2021 |
| Headquarters: | Saskatoon, Saskatchewan |
Established in 1983 under the moniker TransWest Air, West Wind Aviation originated in Saskatchewan, starting its aviation journey with small piston and turboprop aircraft. Throughout the 1980s and 1990s, the airline underwent a significant expansion, extending its presence within Saskatchewan and other regions of western Canada through both scheduled regional routes and charter flights.
In 2007, a company-wide rebranding saw TransWest Air become West Wind Aviation. Over the next decade, the airline continued its mission to enhance regional connectivity within western and northern Canada. The company offered its services to remote communities through charter flights operated by floatplanes and turboprops while using larger aircraft for regional routes.
However, in 2017, West Wind Aviation suffered a severe blow when it was involved in a fatal crash near Saskatoon. This unfortunate incident had a detrimental impact on its reputation and financial status. The company grappled with escalating losses, and in March 2021, it decided to cease all operations after 38 years of providing regional air services in western Canada.
At the height of its operations, West Wind Aviation boasted a diverse fleet of over 20 aircraft, including ATRs, Dash 8s, and Cessna Caravans, which it used for scheduled routes and charter flights. The cessation of its operations symbolized the conclusion of one of Canada's most longstanding independent regional airlines, which had nearly four decades of history in the aviation business.
Meaning and History