Women's Health Logo PNG
The Women's Health logo reflects the magazine's focus on fitness, nutrition, psychology, and other beauty and lifestyle-related topics. It adorns the covers of all issues, emphasizing the publication's central goal, which is to care for women's well-being.
Women's Health: Brand overview
| | |
| --- | --- |
| Founded: | 2005 |
| Founder: | Hearst |
| Headquarters: | New York City, United States |
| Website: | womenshealthmag.com |
Women's Health (WH) was founded by the American company Rodale, Inc. as a spin-off from the long-established Men's Health. The first issue was published in 2005, and since then, the magazine has been issued ten times a year. Since 2018, its owner has been the multinational conglomerate Hearst Communications. WH is distributed in over 14 countries, including Turkey, Thailand, Argentina, Indonesia, Germany, China, and Brazil. It provides information on physical and emotional well-being, helping readers maintain a healthy lifestyle. It includes articles, interviews, expert advice, recipes, fashion and beauty tips, and success stories of women who have achieved their goals.
Meaning and History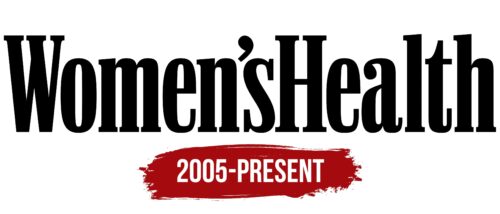 The logo of the international magazine reflects its name and touches on many aspects. After all, women's health does not only depend on doctors – it requires leading an active lifestyle, monitoring sleep, eating properly, avoiding stress, and taking care of the skin and hair. These and other topics are covered in the glossy magazine's articles, identifiable by the "Women's Health" inscription on the colorful cover. The designers styled the wordmark to engage readers. The absence of excess decoration gives an impression of seriousness and professionalism, as the magazine strives to be an authoritative source of useful information.
What is Women's Health?

Women's Health is a popular publication that covers a wide range of topics, including relationships, psychology, style, proper nutrition, fitness, and much more. The magazine is dedicated to women's self-improvement, physical and mental health. It first appeared in 2005, and since 2018, it has been owned by Hearst Communications. WH is published in many countries and is available both in print and electronically.
2005 – today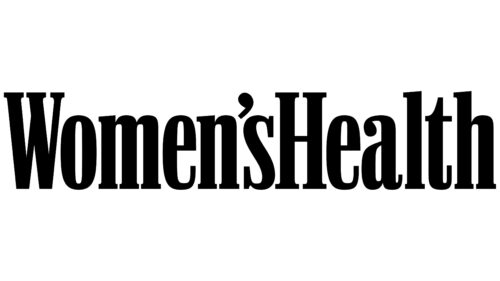 The Women's Health logo excellently fulfills its primary task – attracting the target audience. It contains the name of the magazine, set in a bold, geometric serif typeface. The vertically extended letters underscore slimness and grace – characteristics typically associated with feminine aesthetics. Their dynamic shape symbolizes strength and energy. This is a visual embodiment of the activity, enthusiasm, and determination that WH encourages. That is, the emblem highlights the periodical's values related to fitness, nutrition, and a healthy lifestyle.
Font and Colors
The brand name is set in a bold font with high contrast between thin and thick lines. It appears to be a modified version of Bodoni Poster Compressed and is rendered in the classic Didone style, which emerged in the late 18th century. This typeface features geometric letter shapes and has long serifs.
The use of black color in the logo underscores strength and confidence. It contrasts with the light background, making the inscription more noticeable. In the context of Women's Health magazine, this color signifies a serious approach to the topics covered.
Women's Health color codes
Black

Hex color:
#000000
RGB:
0 0 0
CMYK:
0 0 0 100
Pantone:
PMS Process Black C