According to preliminary data, on December 2, 22, a new computer game from the Need for Speed ​​series will be released, which is guaranteed to receive a modernized logo. Network analyst Tom Henderson confirmed information about this. Despite the lack of an official announcement from EA and Criterion Games, it is already clear that the rumors have a real basis. After all, the moderator of the Need for Speed ​​fan community on the Subreddit resource under the nickname Ziimbiian became the source of the logo leak.
However, a more precise date is still vague: a race for PC, Xbox Series, and PS5 with an updated logo can appear anytime, including before the end of October. One thing is certain: everything is ready for the final announcement, including the visual identity of the popular video game.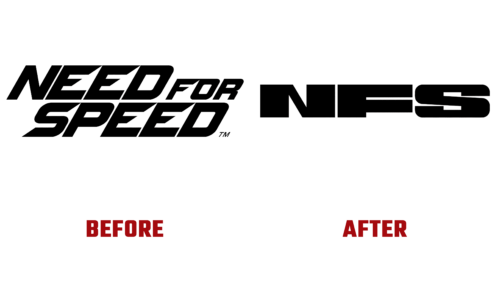 But the inscription "NFS" in the emblem looks very different from the badges of previous racing options. The designers removed the traditional italics and added boldness, so the letters are massive, wide, and squat. Whereas in other versions, vertical glyphs with thin legs predominate. Such adjustments bring both novelty and rigor, echoing the content of the bestseller. After all, the action is transferred to an analog of the merciless Chicago.
The art style of the new monolithic logo is a nod to the gritty tone of the video game. The name is massive, with block letters and narrow character spacing. Black color does not merge only due to the presence of thin white stripes of precise geometry. There are similar lines in the glyphs themselves, which is especially clearly seen in the example of "F." Neighboring characters, due to their structure, have a little more intra-letter space.