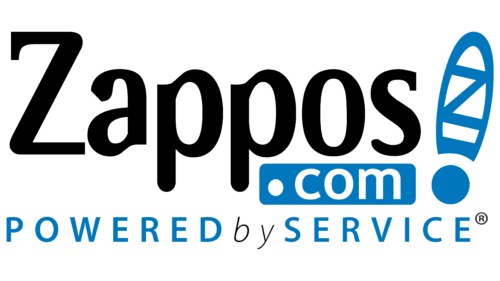 Zappos Logo PNG
In 1999, Nick Swinmurn created an online platform for selling shoes called Shoesite.com. After a year in business, inspired by the Spanish term "zapatos" (shoes), Swinmurn rebranded and called it Zappos. Although the early 2000s and the dot-com bubble posed serious challenges, making venture capital hard to come by, Zappos adopted a unique strategy. The company relied on impeccable customer service, which allowed it to grow its revenue to $1 billion by 2008.
A year later, in 2009, Amazon recognized the potential of Zappos and incorporated it into its empire by acquiring $1.2 billion in stock. This infusion strengthened Zappos financially and catalyzed its expansion into apparel. In doing so, Zappos continued to adhere to its ethics of prioritizing customer satisfaction. Tony Hsieh, who has led the company since the turn of the millennium, played a crucial role in the rise of Zappos until his departure in 2020.
Zappos, which became an integral part of the Amazon conglomerate, has grown into one of the leading virtual shopping centers for shoes and apparel. The brand's unwavering commitment to its customers paved the way for a similar approach for many e-commerce businesses. Headquartered in Las Vegas with logistics centers in Kentucky and Nevada, Zappos has over 3,000 employees and continues to grow.
Meaning and History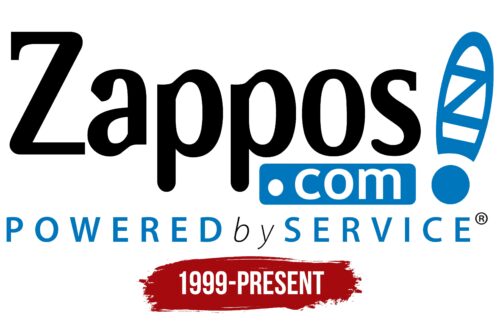 What is Zappos?

Founded in 1999 by Nick Swinmern, Zappos has become a well-known hub for shoppers around the world looking for shoes and apparel. The company's name, which is a figurative reinterpretation of the Spanish term "zapatos," indicates its roots in shoe retailing. Today, Zappos serves more than 20 million customers in more than 100 countries, and its catalog is not limited to footwear but includes apparel, accessories, and home furnishings. Headquartered in Las Vegas, Nevada, Zappos has been changing the retail landscape for more than 20 years, earning a reputation as a one-stop store for a wide variety of fashion needs.
1999 – today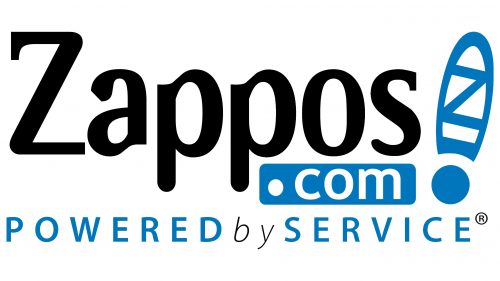 The American online marketplace for shoes and clothing has chosen a unique logo that reflects its unique character and businesslike nature. Behind the name, written in slightly cropped bold glyphs, is a large exclamation mark. The designers have given this sign the shape of a shoe print with the letter "Z" in the middle. Under the main inscription is the address of the site domain – ".com." It is colored in white and is located inside a blue rectangle. Still below is the company's slogan, typed in thin letters without serifs.
The shoe print with the letter "Z" resembles a cool stamp that says, "We're here, and we're different!". The blue rectangle with ".com" looks like a label on a package, which immediately brings to mind shopping. And the slogan, written in thin letters, is like a whisper telling what makes the company special. The logo is a mini-story in itself.
Zappos color codes
French Blue

Hex color:
#0076bd
RGB:
0 118 189
CMYK:
100 38 0 26
Pantone:
PMS 7461 C
Black

Hex color:
#000000
RGB:
0 0 0
CMYK:
0 0 0 100
Pantone:
PMS Process Black C