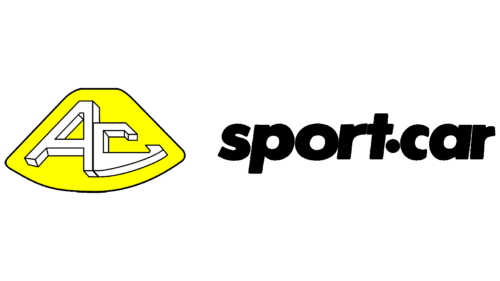 AC Sport Cars Logo PNG
The AC Sport Cars logo prominently features a unique icon at the forefront. This icon is a trapezoid or pedestal with a wide base and a narrow top. Harmoniously inscribed within it are the two letters: "A" and "C." They form a three-dimensional monogram, as each of them has voluminous edges. The first glyph is positioned higher than the second, giving the symbol an unusual appearance. Thin black lines on the edges outline them. The background is painted in a lemon-yellow color.
The brand name is to the right of the icon, set in an extra-bold lowercase font. The words "sport" and "car" are separated by a large dot in the middle. This design choice suggests a brand that is bold and confident, qualities that are essential in the competitive sports car manufacturing industry.
The three-dimensional monogram of "A" and "C" is a distinctive design element that adds depth and visual interest to the logo. It suggests an innovative and forward-thinking brand, reflecting its commitment to producing high-performance sports cars.
Using a lemon-yellow color for the background creates a striking contrast with the black outlines of the letters and the brand name. This color choice suggests a vibrant and energetic brand, qualities synonymous with sports cars.
The separation of the words "sport" and "car" by a large dot is a unique design element that adds a touch of modernity to the logo. It balances the design and draws the viewer's eye to the brand name.
AC Sport Cars: Brand overview
| | |
| --- | --- |
| Founded: | 1980 |
| Headquarters: | Portugal |
AC Sport Cars, a Portuguese automaker, was established in 1980 by Augusto Carvalho. The company produces lightweight sports cars with fiberglass bodies and tubular steel frames.
A significant feature of most AC Sport Cars models was the use of Ford Kent engines, with one of the earliest examples being the AC Cobra 340, which debuted in 1984.
This small car manufacturer carved out a unique market position for itself by focusing on creating replicas of classic designs, such as the Shelby Cobra, MG B, and Ford GT40.
Throughout the 1990s and 2000s, AC Sports Cars remained dedicated to producing sports car models. These were typically made in small batches, targeted towards car enthusiasts who valued these unique, classically-inspired designs.
AC Sport Cars may not have been a major, mass-volume producer, but it maintained its operations for several decades as a specialized manufacturer of classic sports car replicas, all proudly made in Portugal. Its focus was on a distinct market segment that sought continuation or retro-styled lightweight sports cars, all powered by Ford engines.
Meaning and History