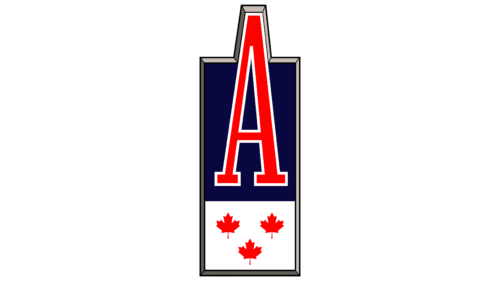 Acadian Logo PNG
The Acadian logo is vertically elongated, reflecting the refined and elegant form of the model it adorned. The logo's base is a tall rectangle with a three-dimensional frame divided into two unequal parts. The smaller part is at the bottom, featuring three red maple leaves, symbols of Canada. The larger part is at the top, colored in dark blue. It houses a capital "A" with a white outline. The top of the glyph extends beyond the boundaries of the geometric figure, standing tall above it.
The vertical elongation of the logo suggests a sophisticated and refined brand, qualities associated with the elegant form of the model it adorned. Using a tall rectangle with a three-dimensional frame adds depth and visual interest to the logo, further enhancing its sophisticated appeal.
The three red maple leaves at the bottom of the logo are a clear nod to the brand's Canadian heritage. They symbolize strength, endurance, and natural beauty, synonymous with the brand's commitment to producing high-quality vehicles.
The dark blue color of the larger part of the logo creates a striking contrast with the white outline of the "A." This color choice suggests a reliable and trustworthy brand, qualities essential in the automotive industry.
The capital "A" with a white outline is a distinctive design element that adds a touch of modernity to the logo. Its position at the top of the logo, standing tall above the geometric figure, suggests a confident and ambitious brand.
| | |
| --- | --- |
| Founded: | 1962 – 1971 |
| Founder: | General Motors |
| Headquarters: | Canada |
The Acadian, a compact car model, was introduced in 1962 by General Motors Canada exclusively for the Canadian market. This launch aimed to provide Canadian Pontiac-Buick dealerships with a domestically produced compact model, given that the Pontiac Tempest wasn't available in Canada then.
The Acadian was modeled after the Chevrolet Corvair for its first generation, which lasted until 1969. It adopted the same design featuring a rear engine and air-cooling.
In 1970, a redesign saw the Acadian become a badge-engineered version of the Chevrolet Nova, switching to a more conventional front-engine and rear-wheel drive design.
The Acadian was marketed as an affordable, entry-level compact car aimed at the average Canadian consumer throughout its existence. Over a decade of production, the Acadian achieved decent sales, appealing to budget-conscious buyers looking for a basic GM compact car unique to the Canadian market.
However, in 1971, the Acadian was discontinued when GM decided to make the global Pontiac Astre model available in Canada.
During its production, around 288,000 Acadians were manufactured at GM Canada's plant in Oshawa, Ontario, spanning two generations of the car before its discontinuation.
Meaning and History