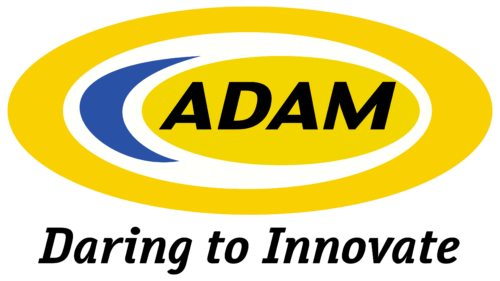 Adam Motors Logo PNG
The Adam Motors logo subtly hints at its Pakistani origins. It features a distinctive color reminiscent of the soil found in the South Asian region: a yellow-sandy or even clay-like hue. This shade also predominates in the local architecture. Beyond this, the connection to the locale is not immediately apparent, as the emblem takes an oval shape and consists of several repeating figures that serve as a backdrop for each other.
A small ellipse at the logo's center contains the black inscription "ADAM." The font is uppercase, bold, and italicized, suggesting an assertive and dynamic brand. Using black for the brand name creates a strong contrast with the sandy background, making the name stand out and easy to read.
On the left side of the white oval, a blue crescent moon is depicted, its points directed toward the right. This is interpreted as a nod to the Islamic heritage of Pakistan, where the crescent moon is a national symbol. Using blue for the crescent moon adds a touch of color to the logo and creates a pleasing contrast with the sandy background and the black brand name.
Adam Motors: Brand overview
| | |
| --- | --- |
| Founded: | 2001 |
| Founder: | Omar Jibran Engineering Industries Ltd |
| Headquarters: | Karachi, Pakistan |
| Website: | adammotor.pk |
Adam Motors, a now-defunct automaker, was established in Karachi, Pakistan, in 2001 by Omar Jibran Engineering Industries Ltd. Initially, the company assembled light trucks and 4WD vehicles using parts imported from China.
In 2003, the company embarked on a venture to develop an indigenous car model named Revo, engineered by Pakistani professionals. The production of this front-wheel-drive hatchback began in 2005, with around 500 units being initially assembled. The Revo was presented as Pakistan's first locally designed car.
Unfortunately, the market response to the Revo was lukewarm, as it struggled to compete with used Japanese imports within the same price range. Due to low demand, the production of the Revo ceased in 2006 after just a year and less than 1,000 units sold.
Adam Motors succumbed to financial difficulties and eventually ceased operations entirely by 2008. The ambitious endeavor of creating a national car for Pakistan could not sustain itself in the long run.
Adam Motors underscored the opportunities and challenges of establishing an indigenous auto industry in Pakistan despite its short lifespan.
Meaning and History