Aesop Logo PNG
| | |
| --- | --- |
| Founded: | 1987 |
| Founder: | Natura & Co |
| Headquarters: | Fitzroy, Victoria, Australia |
| Website: | aesop.com |
Aesop, a globally recognized skincare brand, began its journey in Melbourne, Australia, in 1987. Its founder, Dennis Paphitis, initiated the company as a modest studio that crafts personalized skincare mixtures. The company's moniker draws inspiration from Aesop's Fables, a revered series of stories originating from ancient Greece that contain underlying moral lessons.
During the early 1990s, the company made significant strides in the Australian market by opening its inaugural flagship outlet in Melbourne. Aesop's focus on utilizing top-notch natural components and understated packaging quickly garnered attention.
The year 2005 marked a turning point for the brand, as Aesop collaborated with a design firm to overhaul its image and the layout of its stores. This revamping led to a more refined and contemporary look, elevating the brand's appeal and recognition.
Aesop's footprint grew even wider in the following years, reaching beyond Australia's shores. The 2010s saw the brand's introduction in various Asian, European, and North American locations. Initially confined to Aesop's stores, its products became accessible in chosen department stores and cosmetic outlets.
The brand's growth trajectory caught the eye of Natura Cosméticos, a Brazilian cosmetics giant, which acquired a minor share in Aesop in 2012. This collaboration accelerated Aesop's global expansion, culminating in over 50 stores by 2014.
In 2016, Natura completed the acquisition by purchasing all remaining shares, although Aesop retained its autonomy and existing leadership. Now boasting over 260 outlets in more than 30 nations, Aesop sustains its commitment to quality, simplistic design, and a dedicated customer base.
While Aesop's ownership has shifted from Australian hands, its core operations and headquarters continue to thrive in Melbourne. Aesop's brand presence as a manufacturer of quality and innovation is continually expanding in North America, Europe, and Asia, maintaining Aesop's reputation.
Meaning and History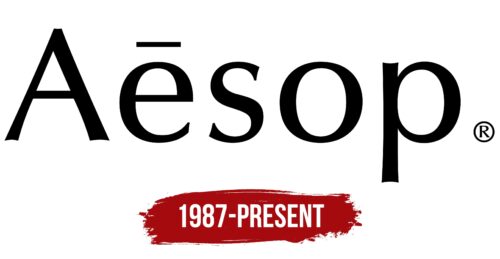 What is Aesop?

Since its establishment in 1987, Aesop has meshed the global market with its opulent, potent, and eco-friendly personal care products, including skincare, haircare, and fragrances. Operating under the ownership of Natura & Co, Aesop has emerged as a celebrated and emblematic Australian high-end cosmetic brand, operating from its central office in Fitzroy, Victoria, Australia. Aesop, known for its unique skincare philosophy and dedication to environmental sustainability, persistently offers clients both luxury and efficiency in its range of products.
Aesop color codes
Black

Hex color:
#000000
RGB:
0 0 0
CMYK:
0 0 0 100
Pantone:
PMS Process Black C