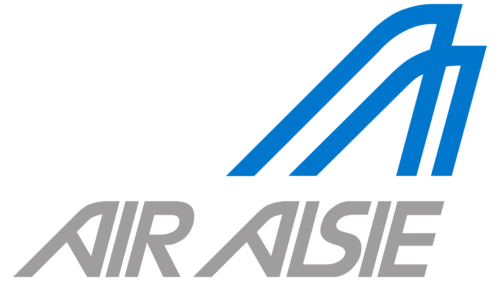 Air Alsie Logo PNG
Air Alsie logo consists of two curved blue lines representing the initial letters "A" from the company's name. The absence of crossbars in these letters is a deliberate design choice to stylize them as part of an airplane's tail. Additionally, they lean to the right to create a sense of motion. Below these lines, the phrase "Air Alsie" is written, where both "A" s have a similar shape but are equipped with diagonal crossbars that make them recognizable. The remaining glyphs appear standard, with the connected "L" and "S" standing out. The inscription is entirely gray and is executed in bold italics.
This elegant and minimalist design reflects several key aspects of the brand's identity and values:
Curved Blue Lines: By transforming the initial "A" s into stylized airplane tails, the company emphasizes its core business – aviation. The blue color, often associated with the sky and tranquility, further cements the connection with flying.
Rightward Lean: The inclination of the letters to the right represents forward momentum and progress. This aligns with the brand's goal to be an industry leader and innovator, always moving forward to meet the demands of modern air travel.
Unique "A" s: The design's utilization of the unique "A" forms within both the logo and the text portrays a commitment to creativity and attention to detail. It offers a unique brand signature that sets it apart from competitors.
Connected "L" and "S": These letters' links add a unique visual twist, signifying unity and cohesion within the brand and its services.
Gray Bold Italics: The choice of a gray color imparts a sense of professionalism and reliability, while the bold italic font conveys confidence and dynamism.
Absence of Crossbars: The intentional absence of crossbars in the two stylized "A" s symbolizes freedom and expansiveness, qualities often associated with air travel.
Balance and Harmony: Combining these elements creates a balanced and harmonious visual impression, mirroring the brand's commitment to providing well-balanced services and a harmonious travel experience.
Air Alsie: Brand overview
| | |
| --- | --- |
| Founded: | 1989 |
| Headquarters: | Sønderborg, Denmark |
| Website: | alsie.com |
Air Alsie, a regional carrier based in Denmark, offers domestic and international flight services, including passenger and charter flights. Established in 1989, the company has its headquarters at Sonderborg Airport and operates out of Copenhagen.
The airline's operations cover numerous destinations within Denmark, such as Aarhus, Billund, and Bornholm. Regarding international reach, it services selected cities across countries, including Norway, Sweden, Germany, and the UK.
A major feature of Air Alsie's fleet is the ATR 72-500 turboprop aircraft, notable for its ability to handle short take-offs and landings. This bolsters the airline's capacity to deliver air taxi and charter services catering to a diverse clientele, from business executives and sports teams to incentive groups.
Air Alsie, a private company, operates with a staff of approximately 100 employees, encompassing a range of roles from pilots and cabin crew to operations personnel, maintenance technicians, and administrative staff. The airline fosters connectivity within local communities as part of its inclusive business philosophy.
Through strategic codeshare agreements with partners such as Scandinavian Airlines, Air Alsie enhances its offerings, providing its customers with a broader range of flight options. To maintain profitability, the airline continually adjusts its routes and services in response to the evolving needs of its regional markets.
Meaning and History