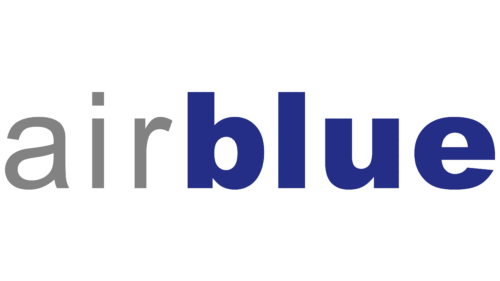 Airblue Logo PNG
Airblue, Pakistan's privately owned airline, has transformed Pakistan's aviation industry through its commitment to quality service and customer satisfaction. Founded in 2003 by Tariq Chaudhry, a pioneering Pakistani-American IT professional, Airblue has revolutionized air travel in the country.
Despite the challenges faced by the airline industry, Airblue quickly gained popularity by offering comfortable and reliable flights. Leasing a single Airbus A320 aircraft, the airline gained passenger loyalty, which served as the foundation for its rapid growth.
Expanding its horizons, Airblue began international operations in 2005, a major milestone. The inaugural flight on the Islamabad-Dubai route laid the foundation for an extensive network of international routes, which has been the key to Airblue's success.
To meet the growing demand, Airblue has continuously expanded its fleet with modern and fuel-efficient aircraft, including the A321 and A340 models.
Through technological advancement and resource efficiency, Airblue has become a pioneer in the aviation industry in Pakistan and beyond, reaching new heights and changing the landscape of the industry.
Meaning and History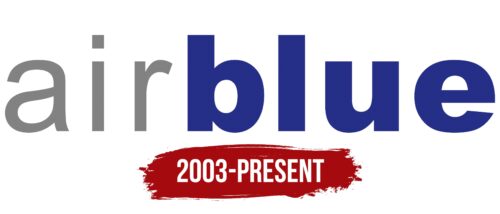 What is Airblue?

Pakistan's Airblue was founded in 2003 by Pakistani-American information technology professional Tariq Chaudhry. The private airline's head office is conveniently located on the first floor of the Islamabad Stock Exchange (ISE) in the heart of Islamabad, Pakistan. The airline has established itself as a reliable provider of domestic and international flights, particularly to Saudi Arabia and the United Arab Emirates.
2003 – today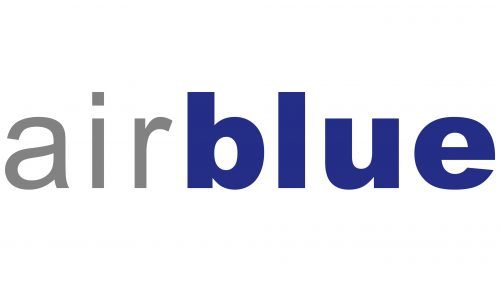 In the Airblue logo, the designers cleverly played with the company's name by coloring the word "blue" in an appropriate shade that is associated with the sky and freedom. This part of the inscription stands out against the background of thin gray letters "a," "i," and "r." In turn, the word "air" looks light, as if about to take off. All glyphs are typed in lowercase letters and have no serifs.
The contrast of font weight and color has a purpose. The bold, blue "blue" stands for reliability and depth – characteristics often sought in an airline. The lighter, thinner "air" embodies the theme of easy and relaxed travel. The absence of serifs gives the overall design a modern feel, making it sleek and up-to-date.
Airblue color codes
Neon Gray

Hex color:
#828282
RGB:
130 130 130
CMYK:
0 0 0 49
Pantone:
PMS Cool Gray 8 C
Cosmic Cobalt

Hex color:
#252e86
RGB:
37 46 134
CMYK:
72 66 0 47
Pantone:
PMS 2747 C